RECIPE and PHOTO  SUBMITTED BY Cherie Antin Fasbinder .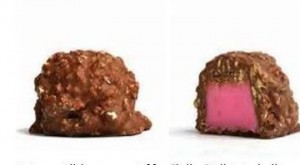 if you wanted the Cherry Mash… here it is… this recipe makes a LOT… I usually 1/2 it. Also, I typically do not use the paraffin any longer… add a little veggie oil to my chocolate for smooth dipping.
1 1/2 stick butter, softened
1 large jar marashino cherries drained and chopped
1 can sweetened condensed milk
1 1/2 tsp vanilla
1 tsp cherry flavoring
4 lb (approx) powdered sugar
2 oz paraffin wax ( I use drop veg oil insead)
1 12 oz pkg semi sweet choc chips
1 12 oz pkg milk chocolate chips
1 large pkg salted peanuts. chopped
mix butter cherries milk vanilla and cherry flavoring well. add sugar. The mixture will be very stiff. Chill roll into balls , chill or freeze balls . melt chocolate with parafin wax in double boiler. Once melted stir in peanuts dip firm frozen balls into the chocolate, let excess drip of and onto wax paper lined cookie sheet to let harden.
Be sure to use powdered sugar on hands when making balls
you can use part almond bark for the chips if desire. this process takes several days to do they are better after setting 3-4 days