Cucumbers can be grown with or without a  trellis. I have done both. If you decide not to use a trellis you need to mound up your dirt so the vine can run down.. and make sure the vine has plenty of room to run.. Trellis is actually the better way to go for cukes though. They can climb and are not only easier to pick but it helps keep the vine from being injured.
Pick your cukes when they are on the smaller side.. the bigger they get the more bitter they are . Check the vine often as they have rapid growth spurts
Also the more you pick the more you will get.
Be careful when you pick so you don't injure your vine.
Overripe fruit has hard seeds that are difficult to chew. Yellowing at the bottom (blossom end) of a cucumber signals overripe, bitter fruit. Never leave overripe fruit on the vine just because it is too far gone. Remove it.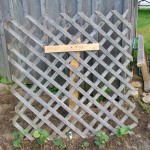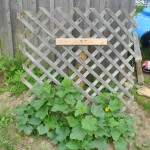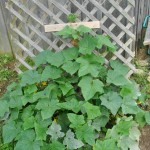 We somehow missed this GIANT of a cucumber amongst the trellis of vines.. ..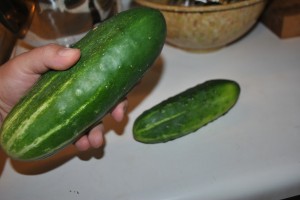 NOTE: You can keep harvested cucumbers in the refrigerator for 7 to 10 days, using as soon as possible after picking. If you don't eat a slicing cucumber all at once, cover the unused portion in plastic wrap to prevent dehydration in the refrigerator. In fact, it's a good idea to wrap your whole cucumbers in plastic or store them in a zipper bag in the fridge. Remember that store bought cucumbers are waxed to keep them from losing moisture. Yours aren't. Keeping them in wrap or a plastic zipper bag will keep them crisp longer.