Okay so I am a working lady lately.. I am a teachers aide and a bus aide Sub.. when I am a sub on buses I get to come home for a little while before going back to meet the driver in the evening to pick up the kids from school.. well I found my Crock Pot was my best friend while working.. I can get some delicious meals ready and my kids who get home before I do can have something hot and delicious when they get through the door…
I like playing around sometimes and making my own little recipes out of whatever I got on hand.. sometimes it works out pretty good..  here is one you might enjoy.. it was delicious, and very easy.
CROCK POT CREAMED CHICKEN & PASTA – SEMI HOMEMADE
I had two packages of the Knorr Brand Chicken  Pasta Sides.. they are basically meant to be side dishes .. but here is what I done.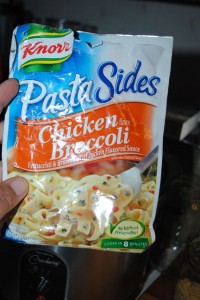 I took my crock pot and put some water in there.. didn't measure sorry =( but it was a good amount to cover my Tyson frozen , skinless boneless chicken breasts I grabbed out of the freezer.. just throw the chicken in frozen is fine..
I then put a strainer over top the crock pot to catch my noodles.. I wanted them for later… but I wanted the powder to go into the crockpot with the chicken …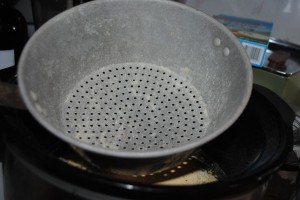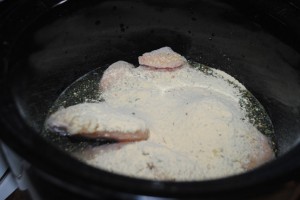 I put my lid on and turned on my crock pot let my chicken go till it was nice and tender falling apart almost..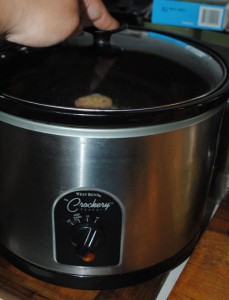 when your chicken is ready you can now add your noodles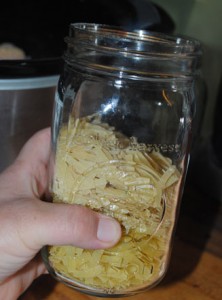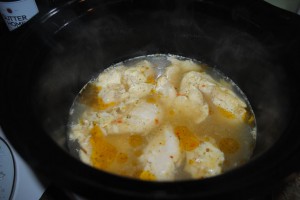 next add a bit of butter (size of a small egg)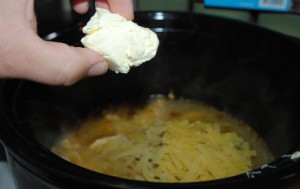 let noodles get done and then turn OFF.. you don't want your noodles to turn to mush..  take off lid
in the meantime make your side dishes..I chose mashed potatoes and some frozen sweet corn I had shucked off the cob and froze..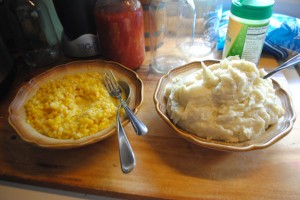 it is done.. and delicious.. it has it's own gravy… if you wanted more you could add a tiny bit more water and fluff with fork.