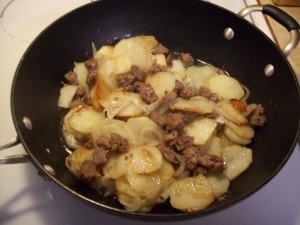 COUNTRY SKILLET
One skillet meal of sausage, potatoes and onions. You can add green peppers if you want. You could also serve with scrambled eggs and biscuits if you wanted. I like to fry my sausage first then wipe out the skillet w/ a paper towel and add oil to fry the potatoes and onions; add the sausage back into the skillet toward the end. I think the sausage grease is just too greasy for me. Just good ole country cooking.
COMMENTS FROM TRIED AND TRUE RECIPES ON FACEBOOK
Patricia Stover

I'm sure it's good, Shirley, but I'm one of those finicky eaters that rarely lets their food even touch. LOL LOL

Shirley Bullard Moore

I don't like many things touching or mixing either but when I do this dish I like to add hot peppers along with the eggs.

Lynn McGinnis

I do something similar using Smoked Sausage, chunky potatoes, onions, and sometimes add chopped cabbage. Makes a great 1 skillet meal.

Lynn McGinnis

I can imagine that a hot pepper might make that even better. Will have to try it sometime.

Patricia Stover

Lynn, I never fix a salad that I don't think of you and how you like your lettuce cut up VERY FINE! ha ha

Lynn McGinnis

Isn't it amazing how we remember those little things? Still do, just don't often take the time to do it anymore. Usually only in the summer time when I have lots of fresh veggies.