CAST IRON SKILLET – IRISH SODA BREAD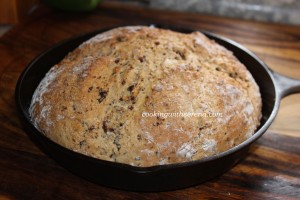 4 cups all-purpose flour
3/4 cup sugar
1 tbsp baking powder
1 tsp baking soda
1 tsp salt
1 1/3 cup dried raisins, currants and apples
1 3/4 cup buttermilk
2 eggs
2 tbsp butter, melted
Ok lets get started..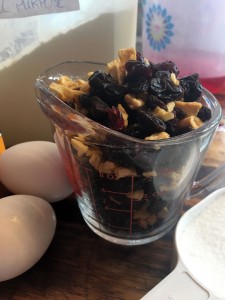 Preheat  350 F
Spray your 8″ Cast Iron Skillet
Traditionally in a large bowl, but today I am using a Cuisinart Food Processor -mix the dry ingredients together  (flour, sugar, baking powder, baking soda and salt)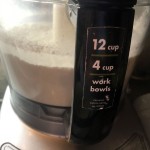 Next mix in dried fruit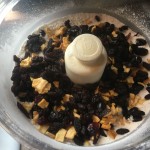 Next I have my buttermilk to the side in a large measuring cup.. I add in my eggs to the buttermilk and beat with fork.
I have my melted butter in a cup to the side.
FIRST add the butter  to the dry ingredients and combine with a wooden spoon. (i just pulsed my processes a few times)
I then added in the buttermilk and egg mixture. (Again Pulsing a few times)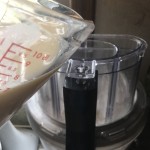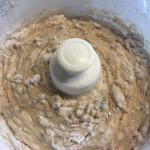 If mixing with hands… Dust your hands with a little bit of flour and knead the dough, either in the bowl if it's large enough, or over your floured work surface. Knead it gently just until you can form a rough ball. Do not over knead the dough.If your dough is too wet, add a bit more flour, a little bit at a time.
(at this point I take out of my processor and put into a large mixing bowl and add a little flour and toss till texture is right)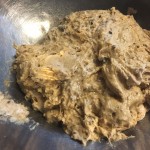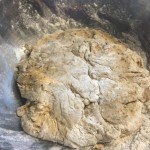 Place the dough in Cast Iron Skillet and score the top in an X shape and about an inch deep, this helps cook the center.
sprinkle a little of sugar on top and put in oven.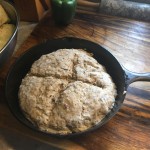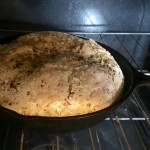 Bake for an hour. .. then check center
if not done, put internal digital thermometer in center and make sure it reaches 200 degrees ..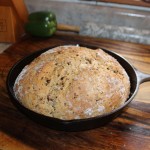 Enjoy and Happy St Patty's Day to ya