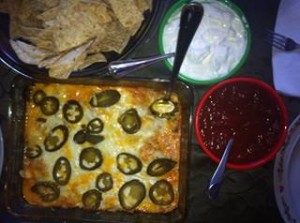 Since the kids are out of school for the summer, I'm trying to find quick and inexpensive dishes to add during the week. We do tacos/nachos a lot so this week I tried Chicken Tortilla Casserole-they ate it all!!
Cook 3-4 seasoned chicken breasts; dice after cooling
1 cup salsa
1 cup sour cream
2 cups shredded cheddar cheese
3 cups tortilla chips, crushed
Spray 9×13 pan with cooking spray
Mix diced chicken, salsa and sour cream in a bowl
Spread half of the chicken mixture on bottom of pan
Sprinkle with 1.5 cups crushed tortilla chips and 1 cup of cheese
repeat with the remaining mixture, top with chips and cheese and jalapenos
Cook at 350 degrees 30-45 minutes until slightly brown and bubbly.
I served mine with warm tortillas, chips, veggies, sour cream and salsa, Spanish Rice and black beans! Yum!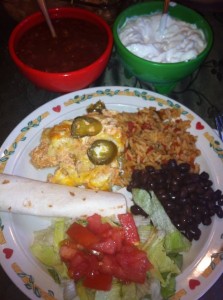 —  feeling full.
It was great , but not spicy enough for my crew! I'm thinking I'll add fajita seasoning or hot sauce next time.