CHICKEN PARM RICE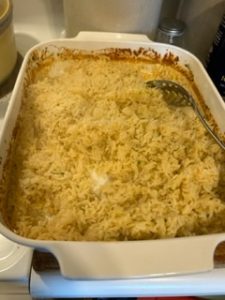 Preheat oven to 400 degrees. Measure out 2 cups of long grain white rice, add to. tight mesh strainer and rinse it out in cold running water.
Add your washed rice to a oven safe casserole dish.
Add 1 or 2  cans of chicken broth, fill up the can with tap water once and add that as well.
Add 1 stick of butter cut up.  Some parsley flakes. A good amount (maybe 1/2 tbsp) Paprika
add a little salt and three chicken bullion cubes.  and lastly shake some parmesan cheese over lightly, you will add more later..
Cover dish tightly with aluminum foil and place in the oven at 400 degrees for 45 minutes.
Take out and fluff with fork and shake a little more parmesan cheese over top.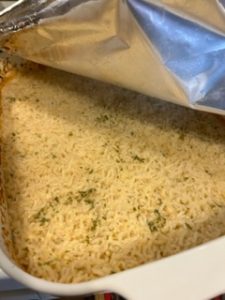 Serve as a side dish with Fried Chicken and Broccoli and Cheese