CHICKEN BARLEY STEW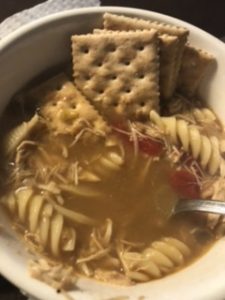 half of a chopped onion (minced small)
couple celery stalks with leaves chopped small
smidge of oil in dutch oven pot
tab of butter
cook onions in butter and add in
Pint of home canned chicken (reserve the broth)
Old Bay Seasoning on my  canned chicken
black pepper
little salt
let it cook a little
add 1 Mushroom Onion  Lipton Soup mix Dry
maybe 2 quarts of water dont measure it
1 regular can of Swanson chicken broth plus the broth from my home canned chicken
1 tbsp better than bullion
1  regular can of beef barley and vegetable soup
1 small can of roasted tomatoes with juice
some Rotini Noodles and a few shell noodles
put lid on and let it cook then turn down heat and let noodles get tender.
it is a cross between a chicken soup and a chicken stew..
very good and easy and fast for when you are sick yourself and you are the one who has to make it.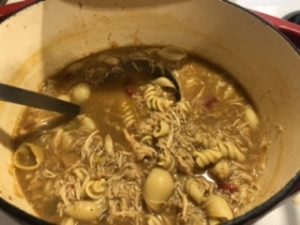 Note: your chicken will shred quite a bit because it has been canned. If you don't want it that way add it in towards end .. I added mine during the beginning to draw more flavor into the meat.
Enjoy!
October 2023
M
T
W
T
F
S
S
« Sep
1
2
3
4
5
6
7
8
9
10
11
12
13
14
15
16
17
18
19
20
21
22
23
24
25
26
27
28
29
30
31