will I ever make this again.. NO.. I did this just for fun.. but honestly I don't see the point.. I would rather have my ice cream with my cake when I please…LOL but the kids did think it was cool so it was fun.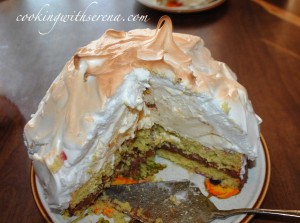 CHERRY CHOCOLATE -BAKED ALASKA
1 basic vanilla cake  or a box mix..
click on this link for the recipe to my basic yellow cake mix and icing  http://cookingwithserena.com/?p=6047
Black Cherries pitted and sliced into chunks
Vanilla Ice Cream (about 1 quart)
Chocolate Icing – Note see my recipe on link above for my chocolate icing
Now you will need 2 8 inch round pan and a stainless steel 1 1/2 quart bowl.
pit your cherries and cut into chunks .. add a little sugar to them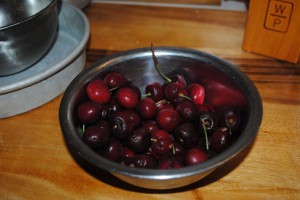 Make your cake batter and mix in your cherry chunks.
.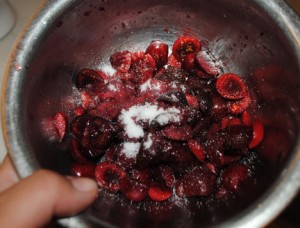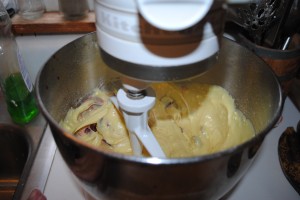 next spray or grease and flour your cake pans and evenly distribute the batter and bake at 350 till done.
turn out one of them onto a cookie sheet (I lined mine with foil but do not do that.. just more hassle)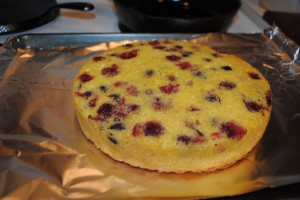 In the meantime put ice-cream in your mold and pack down tight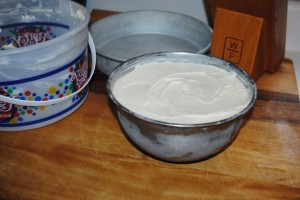 . cover with foil or in my case I am using the empty plastic container with lid to put mine int he freezer to freeze..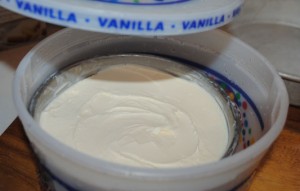 let cakes cool.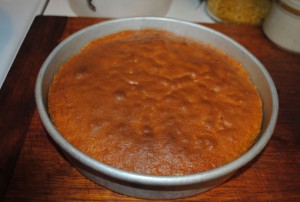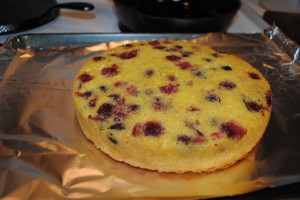 make icing and spread one layer on top and sides evenly. (icing link at top)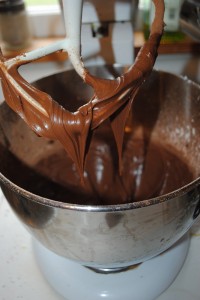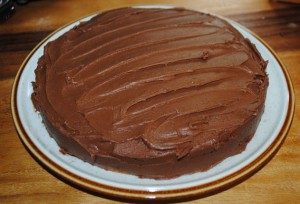 the other you will use for the ice cream.  set this cake round on a oven proof dish, plank, or sheet.. I made the mistake of putting mine on foil.. don't do that.. the foil likes to stick to the bottom of cake and is hard to get off  later on.. LOL my bad…
Simply take out frozen mold and set in warm water quickly just enough to loosen the ice cream..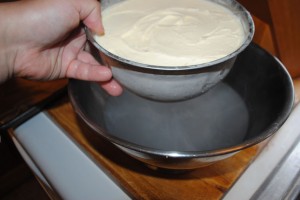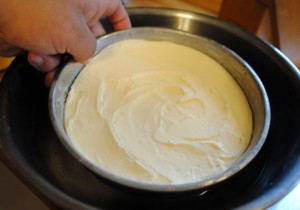 then invert over top of the cake like so…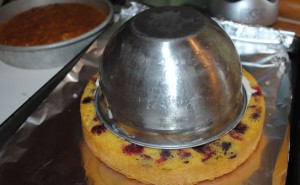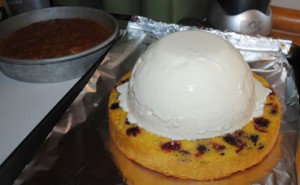 put back in the freezer…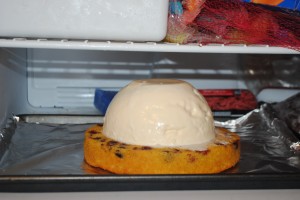 NOTE- I covered mine with a stainless steel bowl to prevent freezer burn..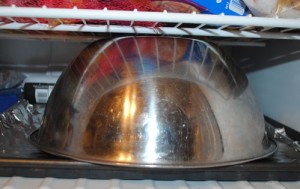 STORE NO LONGER THAN 24 Hours!
Just before serving turn oven to broil (500 degrees) and make your meringue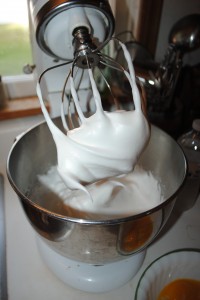 (Beat 5 egg whites with 1/3 tsp of cream of tarter till thick and foamy.. then using about 1/2 cup or so of sugar add by Tbsp one by one till glossy and stiff.)
Spread over top of frozen cake and ice cream quickly….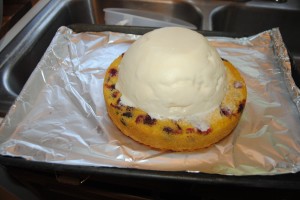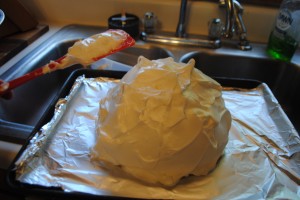 put in oven under broiler and sorta move cake pan around to brown best you can lightly.. take out as soon as you can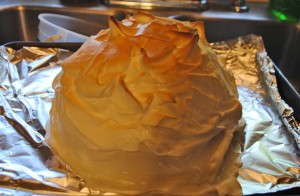 and carefully carefully set upon the other cake round…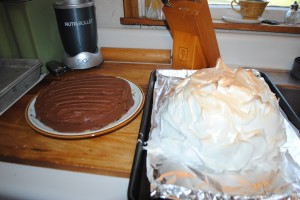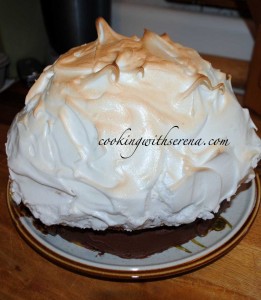 slice and enjoy the kids comments as they try and figure out how you done that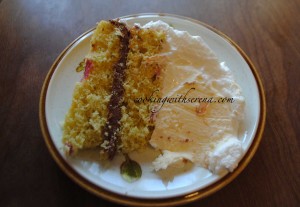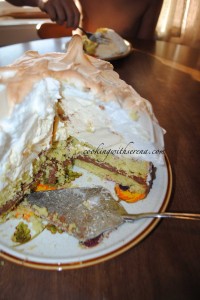 then serve immediately…
July 2022
M
T
W
T
F
S
S
« Jun
1
2
3
4
5
6
7
8
9
10
11
12
13
14
15
16
17
18
19
20
21
22
23
24
25
26
27
28
29
30
31