CANNED WHITE OR IRISH  POTATOES
I use these purely for adding to soups and stews or the occasional green beans… .. Never for mashed potatoes, but they are WONDERFUL sliced and fried in cast iron skillet in butter with salt and pepper..  fast and easy!!!!!
Honestly I usually use my potatoes fresh for most of my dishes but it is nice to have canned potatoes on hand for time saver situations so you don't have to wait for them to soften..  they are especially great for crock pot meals.. you never can add your potatoes when you add your meat or the potato will boil away before the meat is done and so  these are great cause when your meat is done you can add the potatoes and be done with it instead of waiting
You will need:
Potatoes
1  tsp salt
boiling water
a little sliced onion
(note I like to put a chicken bullion cube in as well sometimes, for maximum flavor, optional ..sometimes I do, sometimes I don't)
Directions:
Wash and peel potatoes then wash again.. leave small potatoes whole and large ones you will chunk but keep very meaty as not to boil away during the processing period.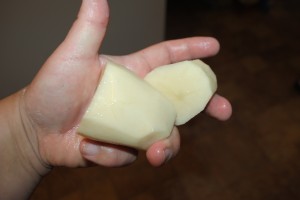 place in jars, if adding onion, now is the time to do so
Note: I do NOT pack these tight like most other things I can.. because I don't want mush and if I pack them tight they are hard to get out of the jar I think..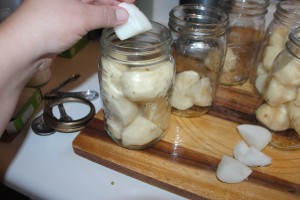 add salt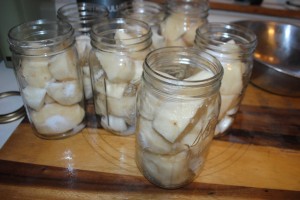 and pour hot boiling water over top of potatoes leaving 1 inch headspace.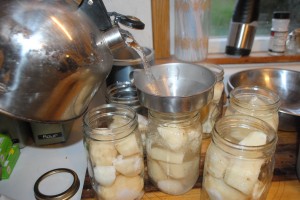 Process pints 35 minutes, and quarts 40 minutes at 10 lbs pressure in a steam pressure canner.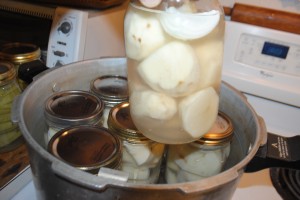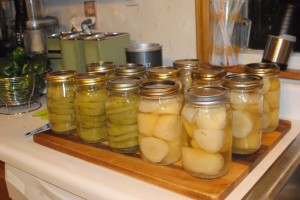 Again I do not think they are very tasty on their own so, I never mash them but  they are heavenly fried in butter with salt and pepper,  like to use for stews and soups, I don't have to wait on my potato to get soft..  I always DRAIN the water off before using
for my fried butter potatoes click here http://cookingwithserena.com/?p=1111922