BROOKIES

1 box brownie mix
1 pkg chocolate chip cookie dough

Make brownie and cookie mixes according to box directions, put brownie mix in each well of your pan then drop cookie dough on top in straight line. Bake as directed on box BUT start checking about half way through the directed time so your brownies stay moist.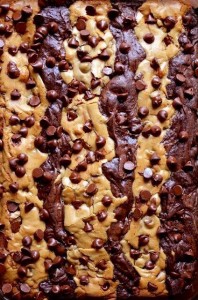 Patricia Stover

Yes but I used the Betty Crocker instructions on the cookie mix and it said to change it a little and that's the one I posted.

Serena Adkins Ellison

They both looked so good.. guess ya cant go wrong with brownies and choc chip cookie dough

Patricia Stover

I have made mine several times now and they are delish and stay fresh a long time. I bought 2 more BC brownie mixes w/ the Hershey syrup in them when I went to the store to make more!