BROCCOLI POTATO SOUP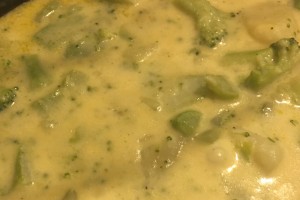 1 Medium Onion chopped
2-3 Stalks Celery chopped
2 Chicken Bullion Cubes
Butter- size of an Egg
Salt and pepper heavily
In large pot stir the above ingredients over high heat
Add 8 cups or more of peeled large chunked potato's
Covered with water
Cover with lid and boil over medium high heat
Let boil till potatoes significantly soften then add 1 2lb bag of broccoli
Cover with lid let broccoli boil till tender
Once broccoli is tender but stil has a little bite to it you now add 1 can of cream (evaporated milk) and 1 stick of real butter add pepper and salt one more
Grab small cup and put 3 tbsp cornstarch in the cup then add a tiny bit of water. Stir and add to the broccoli soup onceitcomesback to a boil.
Stir well. Mash some of the potatoes in your soup with fork but leave some too..
Now add your cheese. A bag of shredded cheddar cheese or even sandwich cheese will work if you have none on hand .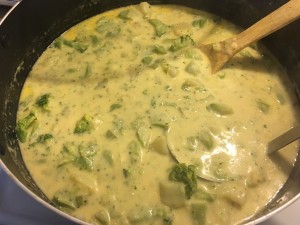 Enjoy !