SERENA'S BLACK BOTTOM BANANA STREUSEL COFFEE CAKE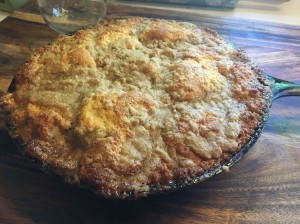 For the  Streusel:
3/4 cup all purpose flour
1/3 Cup Brown Sugar
1/3 Cup Sugar
1 tsp cinnamon
1/2 stick very cold butter cut into chunks
Pulse all ingredients together in food processor or blender till coarse crumbs form.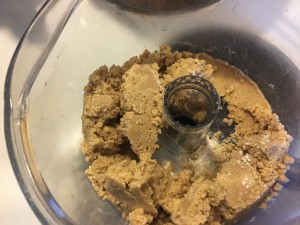 For the Coffee Cake:
1 1/2 cups all purpose flour
1 cup granulated sugar
2 tsp baking powder
1/2 tsp salt
1 large egg
4 Tbsp butter melted
1/2 cup milk
1 1/2 tsp vanilla
1 tsp coconut extract
1 very ripe banana
(have this cake mixture prepared before you start your Banana Filling)
For the Bottom Banana Filling:
take 1 cast Iron Skillet and line with very ripe banana slices cut about an inch thick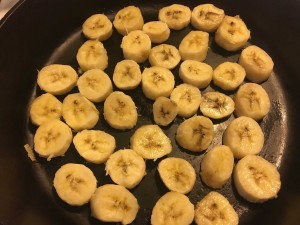 heat Should be on medium high then lowered as you go..
I don't measure this part, just throw an handful of brown sugar over top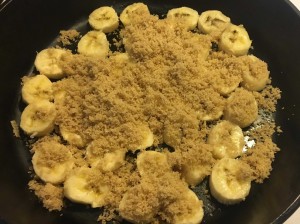 and add a Tbsp of Jim Beam Bourbon  (Either Whiskey or Rum will work)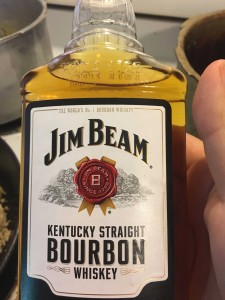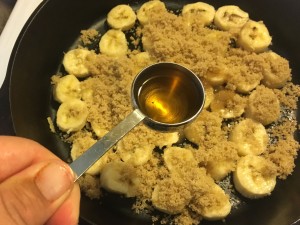 A chunk of cold Butter, about the size of an Egg (guess maybe two tbsp or so)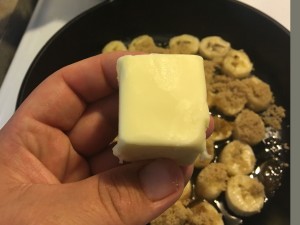 Cut up your butter and  add to your fried bananas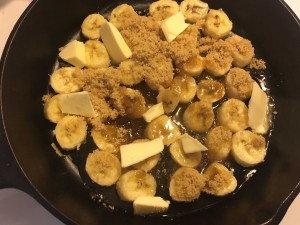 Next take about a half a cup of white sugar and sprinkle over top of your bananas ..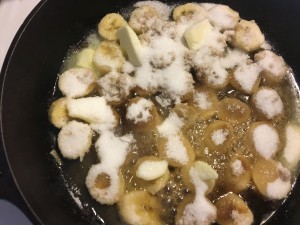 NOTE you should already have prepared your cake mixture ..
so at this point your banana mixture should be bubbling up.. your ready to pour your cake mixture over top your fried  bananas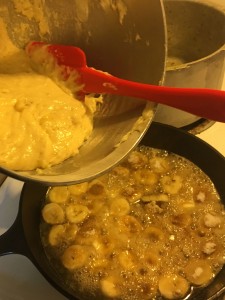 then sprinkle a little white sugar over top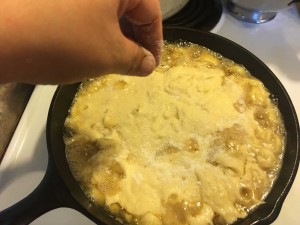 Now you will add your streusel topping over top. Pile it on.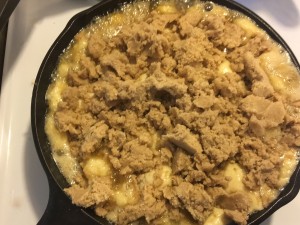 Place in preheated oven of 350 degrees – and  your better to place a cookie sheet below it incase of drippings as it is very full.
Bake about 35 minutes or so  you just have to check it.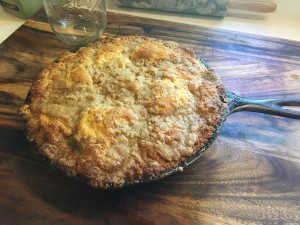 As it is coffee cake , it will be crumbly.. if you cut it right away, as we do because we love it hot with vanilla ice cream,  I warn you it will not cut pretty but who cares really..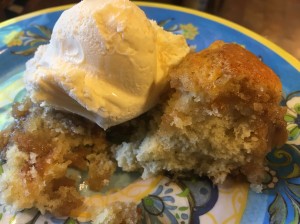 but if you want a pretty cut let it set till completely cooled .. the bottom is gooey and DELICIOUS, while the Cake balances it out nicely
Enjoy