BONELESS BBQ BEEF RIBS IN HOMEMADE SAUCE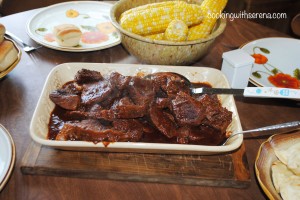 3 Tbsp Veg oil (or more if needed)
1 large garlic clove cut in half
4 pounds beef short ribs
salt and pepper for ribs
1 medium onion diced small
2 tsp chili powder
1 can Hunts Tomato Sauce
1 1/2 cups water
1/4 cup red cider vinegar
4 Tbsp brown sugar
1 Tbsp Worcestershire
1 1/2 tsp salt
1/2 tsp pepper
shake of parsley
1n large Cast Iron Dutch Oven (at least 5 quarts)  over medium heat in hot veg oil, add the garlic clove and cook , stirring till you smell the garlic.. then take out garlic and discard.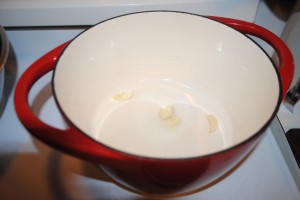 In same oil add in some of your short rib pieces.. browning over med high heat.. several at a time. Salt and pepper your meat as you brown it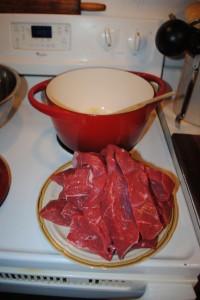 Once you brown them you will put them in a bowl to the side and brown all ribs removing as they brown to the waiting bowl.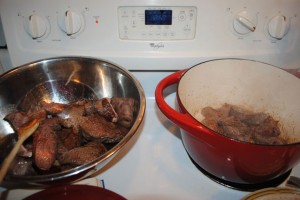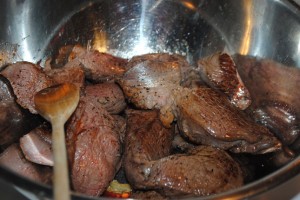 Now in drippings remaining in Dutch oven, over Medium High Heat, cook onion and chili powder stirring till onions are tender.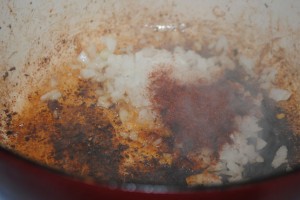 Stir in Tomato Sauce, Water, Vinegar, Brown Sugar, Worcestershire, and salt and pepper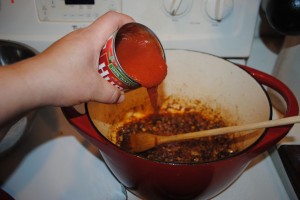 Heat to boiling.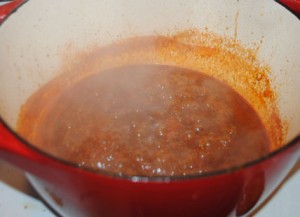 Return Short Ribs to dutch oven.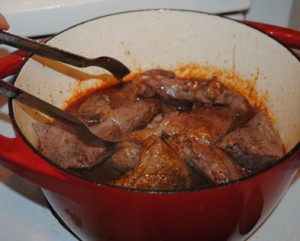 Cover Dutch oven with lid and bat in 350 degree oven for 2 1/2 hours or till short ribs are fork tender.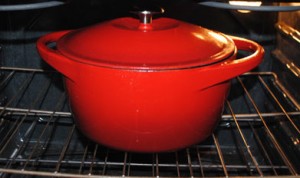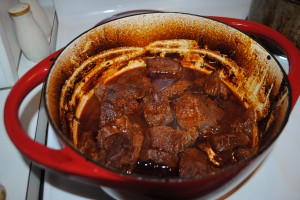 To serve.. remove from dutch oven warm, Skim off any fat from sauce, and pour sauce over ribs. Sprinkle with parsley
.. enjoy.