This cake is VERY moist and very delicious. The banana texture inside makes it so moist, but trust me it is done. You will be hooked when you take one bite. No icing is necessary.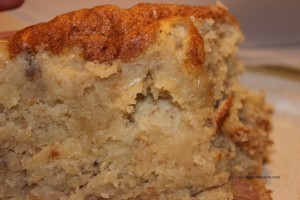 BANANA SURPRISE POUND CAKE
6 eggs
1 c. shortening
1 stick Margarine
3 C. Sugar
1/2 tsp. Almond Extract
1/2 Tsp. Coconut Extract
3 C. all purpose flour
1 C. 2% Milk or buttermilk
1 C. Coconut
3 ripened (brown spotted) Bananas -mashed
1 large or 2 small green yellow delicious apples, peeled and sliced thin
Directions:
Preheat oven to 300.  I use Bakers Joy to spray  a 10" tube pan (large cake MUST be 10" or will overflow)

Separate Eggs, placing whites in a large bowl. Let egg whites warm to room temp.
With Mixer at high speed beat egg yolks with shortening and margarine till well blended. Gradually add sugar beating till light and fluffy.
Add extracts, beat till blended. At low speed beat in flour and milk alternately.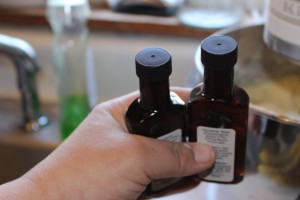 Add coconut, bananas, and apples.
Beat till well blended.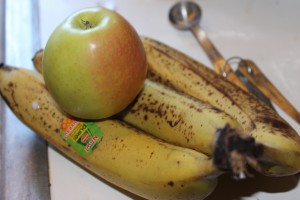 Beat Egg whites in separate bowl until stiff peaks
and FOLD into the cake mixture.
Pour into prepared pan and drop heavily on counter to release any air bubbles before baking
Bake for 2 hours 10 minutes… let cool and turn out.
This cake is VERY moist and very delicious..