RECIPE AND PHOTO SUBMITTED BY Shana Davidson Watson
Here's my plate from supper. I had baked cabbage with my goulash. A friend of mine taught me to bake cabbage with just garlic salt, pepper & butter. It's now one of my absolute favorite ways to eat cabbage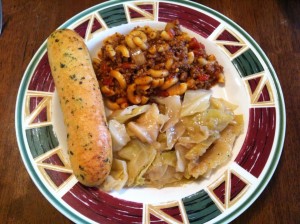 BAKED CABBAGE
for 1 head of cabbage I'll use a 9 x 13 baking pan.
I put maybe 3 or 4 tablespoons water in the bottom of the pan since the cabbage will liquify as well.
Cut your head of cabbage into chunks & separate slightly.
Add as much garlic salt & pepper to your taste & about 1/2 stick of melted butter drizzled over the cabbage.
Cook covered with aluminum foil at 350 for 45 mins – an hour til desired tenderness.
I used a recipe on this site for the goulash
Click here for the link http://cookingwithserena.com/?p=519517