BAKED BBQ CHICKEN THIGHS
using cafeteria size bowl, I add my  completely thawed chicken thighs with skin on,  and I throw some olive oil over them
then pinch some dried rosemary in my hands to release the oils and add to the chicken
salt
pepper
cajun seasoning  heavily
Soul Seasoning (if your store does not carry this then just leave it out as long as you still are using cajun seasoning it is ok)
mix well with hands and lay chicken on slotted roasting pan so fat can drip to bottom.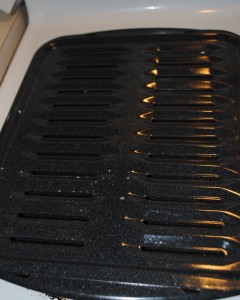 Put into 400 degree oven at 30 minutes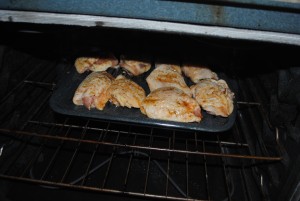 Take out 30 minutes  is up,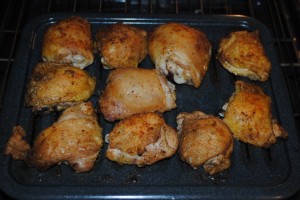 and brush on your favorite BBQ sauce like sweet baby rays, or Bullseye Original or your homemade sauce..
today I am using my friend Cherie Antin Fasbinders home canned Kansas BBQ Sauce she mailed me. has a delicious spicy kick to it.
for her recipe click on this link http://cookingwithserena.com/?p=776510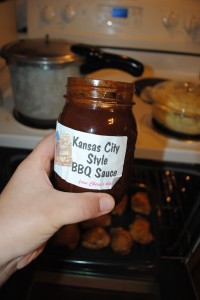 Now put the chicken back in oven for 10  minutes and take out and brush again with the sauce… or  you can instead with sweet honey if the sauce is too spicy for ya…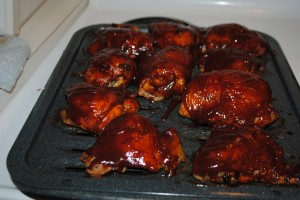 put back in oven for 10 minutes and take out
let chicken rest before serving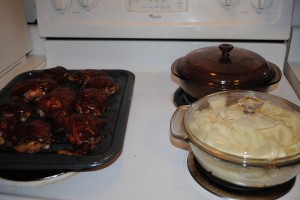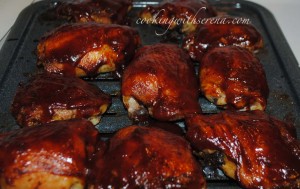 serve warm with mashed potatoes and country green beans. ENJOY