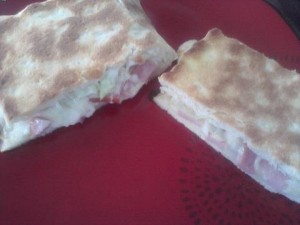 Copycat Recipe for Gino's Pubwich! Let me just say, tastes EXACTLY like Gino's….without paying $5.99 or $6.99 for each!!!! Will post recipe in a bit!!!!
Ingredients
1 package dry pizza crust mix
3 to 4 slices ham (I used the ham steaks from Farmland)
4 ounces shredded mozzerella cheese
4 tablespoons mayonnaise
1/2 cup diced onion
1 tomato, sliced
lettuce
Directions
Fix pizza crust per instructions. Make sure to roll it in a ball and let sit for 5 minutes. Flatten pizza crust onto sprayed pizza pan. Press ham slices between paper towels to remove excess water. On 1/2 of crust, place ham slices so that they cover that half. On the other half, place onion and cover with cheese. Bake crust according to package directions. (I baked mine for 5 minutes at 475 degrees). Remove from oven and place cooked ham slices on top of cheese half. If there is any excess moisture on the crust that you removed the ham from, press with paper towels. Place back in the oven for 5 minutes until crust is fully baked. (Pay attention to this step so you don't burn it…lol)Remove from oven. Spread mayonnaise on empty half and add tomato slices. Slice crust down the middle and fold over. Cut finished product into four equal pieces. Serve warm or cold.