RECIPE AND PHOTO SUBMITTED BY Lora Evans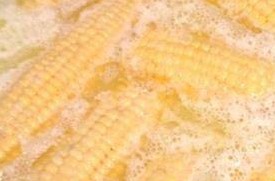 Fill pot with water then add a stick of salted butter and 1 cup of milk. Bring to a rapid boil. Put ears of corn in turn heat to low simmer for 5-8 minutes. It will be the best corn on the cob you have ever had !!!
Comments
Felicia Lisa This is how I used to make/freeze corn years ago! When I lived in Idaho we could buy a bakers dozen (13 ears) for $1.00 that the picking machines could not reach on the edges of the fields. I would take the corn kernels off the cob raw and blanch them in this mixture. Then freeze the corn/milk/butter in containers. It was heavenly!!!