This normally would take all day.. a long time stewing your meat to get it tender.. but I have found some tricks to make this goulash in a pinch
APPALACHIAN CHOW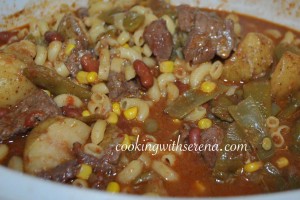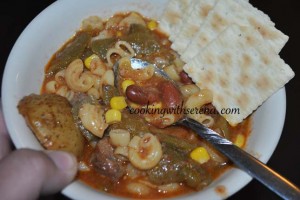 Venison tips
Beef Tips
self rising flour
oil
salt
pepper
garlic powder
1 quart of canned tomatoes
1 quart canned drained green beans
1 can drained sweet yellow corn
1 can rinsed and drained red kidney beans
Small to medium Potatoes with skin, halved
2 cans beef broth
half onion chopped -optional
mixed soup noodles – macaroni, ditallini  ect..
parmesan cheese to taste
Directions
thaw beef and venison tips completely..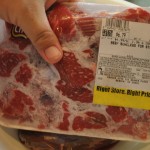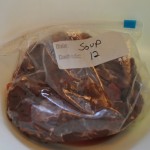 tenderize with meat mallet or Jaccard.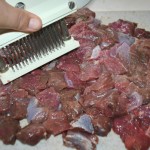 toss in self rising flour and shake with salt pepper and garlic powder..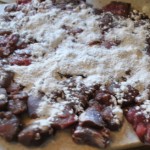 Sautee in heavy skillet a little at a time till you get it all..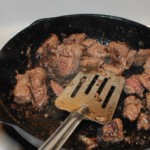 add your sauteed tips to a pressure cooker , make sure you put your metal tray in the bottom first.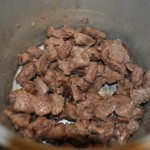 (if you do not have a pressure cooker you can just cook till tender in crock pot or in dutch oven on stove with lid till tender in the beef broth, tomatoes with any added water or broth as needed but pressure cooker is the easiest and best way I have found)
to the pressure cooker I add 2 cans Beef Broth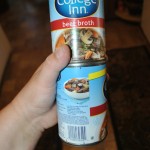 1 quart of canned tomatoes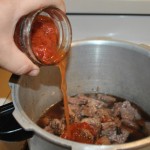 half a onion cut up if you want ..
potatoes with skins cut in half added to the top.. salt and pepper again..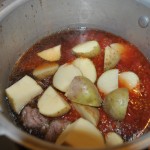 put on lid and bring to pressure..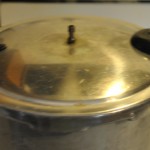 time for 15 minutes from start to finish.. when done beef tips should be fork tender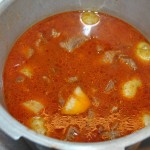 . pour into a pot or crock pot..
add in 1 can drained corn
1 quart canned drained green beans
1 can drained rinsed red kidney beans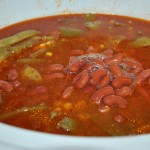 and your mixed soup noodles..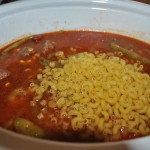 stir in the hot broth.. season to taste put on lid and if using crock pot put on high until noodles are tender but not mush.. same if your using pot on stove… once noodles are tender turn off take off lid and  your ready to serve.. or put on WARM with lid OFF if not ready to serve in crock pot..  Season lastly with grated parmesan cheese.. stir.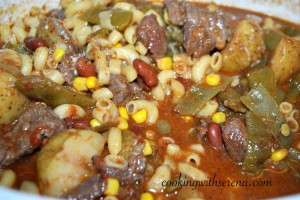 enjoy with saltine crackers.