TENDER BAKED MARINATED CHINESE CHICKEN THIGHS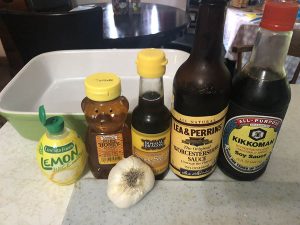 Honey
Lemon juice
Minced Garlic
Sesame Seed Oil
Lea & Perrins Worcestershire Sauce
Kikkokman Soy Sauce
Family Pack boneless skinless chicken thighs
olive oil
MARINADE
Drizzle of olive oil and three cloves minced garlic, add tbsp sesame seed oil, add Two Tbsp Worcestershire sauce, Tbsp Soy Sauce, Tbsp Lemon Juice, 1/2 cup honey add chicken and marinate covered for 30 minutes to overnight ..
When ready to cook place chicken thighs in lightly  oiled casserole dish, pour marinade over chicken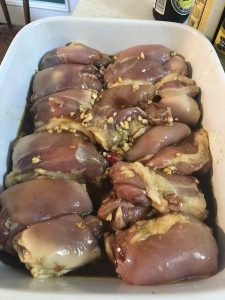 bake at 400 degrees with aluminum foil over top  for 45 minutes.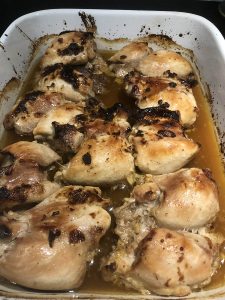 Can take foil off at end and put under broiler if needed to blacken slightly.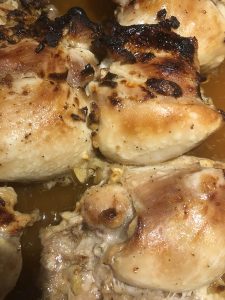 Serve with broccoli and cheese