HAM AND CHEESE SLIDERS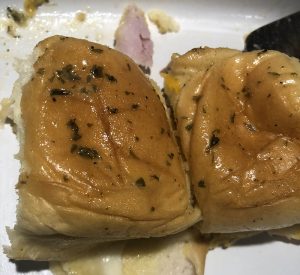 pkg  Hawaiian Sweet Rolls (you can also use hamburger buns in a pinch)
two pkgs of Smithfield Ham Steaks
1/2 stick butter
garlic powder
Parsley Flakes
parmesan cheese
Pepper
Sweet Baby Ray's Honey Mustard
Provolone Cheese Slices
Shredded Cheddar Cheese
Preheat oven to 350
I butter my casserole dish with a stick of butter
cut your Hawaiian rolls in half and place bottom half in casserole dish
brush sweet baby ray's honey mustard over bottom layer of bread
trim all fat off your ham, and cut out the little bone circle. and lay ham onto the mustard
next lay down provolone slices over ham
last sprinkle with cheddar cheese and lay the top of rolls over
(I take my knife and cut them apart  around each roll at this point instead of after baking like some do.. I think its easier to cut them now)
make  your butter topping
in measuring cup I add my butter, parsley, pepper, garlic powder and pop in microwave  to melt butter
take out and add to it some squirts of Sweet Baby Ray's Honey Mustard and mix well
brush over tops of rolls, you can sprinkle with poppy seeds if you want or leave them off.. I also added a little of the  butter mixture to the sides of the dish and in the cut marks as well..
Place aluminum foil over top and pop into the oven for 20 minutes
take out and lightly dust with parmesan and let rest a minute before serving.. delicious! you can use other meats and make Philly cheese sliders, hamburger sliders, pepperoni and cheese sliders, the list goes on.. I forgot to take any pics till it was almost gone.. and it went fast. everyone loves a slider.