SPICY HONEY BBQ GRILLED CHICKEN THIGHS 
1 family pack boneless skinless chicken thighs, rinse each piece in cold water and place in bowl
add some Worcestershire sauce over the chicken and some extra virgin olive oil and toss the chicken.
Shake salt, black pepper, dried garlic, and some Spicy Dan-O's Original Seasoning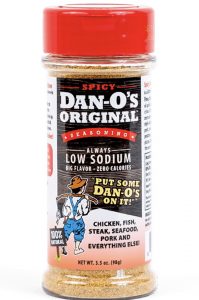 Place on hot grill, shake again with Dan-O's  I let them cook a little until they release from the sear, brush tops with honey, (preferably honey with honeycomb) then turn them on the grill and dot each piece of chicken with Sweet Baby Rays BBQ Sauce then using a brush, spread the bbq sauce over the chicken… let it go then turn and do that side with bbq sauce as well, take the chicken off as soon as done inside. Should be Sweet, Spicy, Blackened just a touch and delicious!