WHITE CHOCOLATE CHUNK CHOCOLATE FUDGE
NOTE: have everything READY … your hand mixer out, your 11×13 pan sprayed with pam and out, your butter vanilla peanut butter ect.. READY to go…..
3 tbsp light karo syrup
3 1/2 c sugar
4 Tbs cocoa
* 1 can cream (EVAPORATED MILK)
* 3/4 stick  of butter
*1 tsp Vanilla
Ghirardelli Classic White Chocolate Chips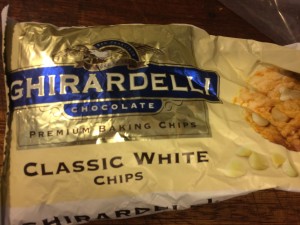 * Creamy peanut butter JIFFY (about a cup or two….. she don't measure just use huge wooden spoonful, add a little and then add more if consistancy is too thin as you beat it)
DIRECTIONS
Spray the pan with Pam or use butter lightly (blot with paper towel so not to be so greasy) … have it setting aside
add Sugar to pot  add the cocoa to the sugar and stir before adding anything else
add Cream (evaporated Milk)
Stir at med- high  heat with wooden spoon, bringing to a boil
add your karo syrup 3 tbsp. once comes to boil,  time it for about 10 minutes (estimated time mom DOES NOT time or measure anything) stir constantly scortches easy you have to stand over this..
..have 1 c cold water ready to side to test if candy is ready if forms a ball at bottom,  taste the ball that forms in the bottom of your cold water test to make sure the grain has cooked out of the sugar, if it does, and the ten minutes are up  it is ready to take off heat
Take off heat  and beat with mixer, set it in the sink with cold water coming down to stop it from cooking.. DO NOT GET WATER IN THE FUDGE will ruin it!!!!!  add your butter
Start adding peanut butter a little at a time, and a tsp vanilla while you beat it with hand mixer..
Mix it up with mixer Add a little more peanut butter if needed and beat… it will get very thick..
work fast so it don't harden too much in your pot, you want to pour it while smooth…
pour half of  it in the ready waiting pan sprayed with pam, by using a rubber spatula
sprinkle some  white choc chips over the whole section of fudge very fast before topping with the rest of the  fudge then add more chips on top layer of fudge. take a knife and quickly swirl the top before it sets.
leave it alone now and let COMPLETELY COOL at least an hour before cutting.. once completely hard and cooled cut with pizza cutter and serve in blocks