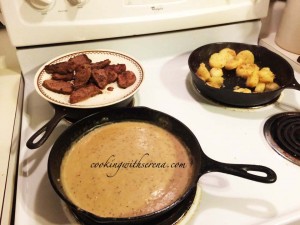 To make this gravy you should first fry your venison steaks..
I use a Jaccard Tenderizer on my steaks real quick to tenderize them.
Then I put around a cup or more of self rising flour on a plate.
to that flour I add course black pepper, cajun spices, garlic powder, and some soul seasoning.
I toss this mixture then dredge my steak cuts in the seasoned flour.
Use a cast Iron skillet and add a little vegetable oil… get it hot then turn down some.. shake off the excess flour and add to the hot skillet add salt
you will let each side form a nice crust, it doesn't take long at all … Venison cooks up faster than beef as it is very lean.  Venison SHOULD have a little pink or you overcooked it.
Now put on clean plate and scrape out the chunks of breading but leave the rest of the drippings.. add a little butter, about the size of an egg.
now put your seasoned leftover flour into the skillet and using a wooden spoon stir the flour into the butter. it will get really thick.. have a large glass of water on the side and add a little at a time as you stir then add a tad bit of regular milk to the gravy..not too much.. stir it with a whisk.. taste and add salt to taste. turn down to a simmer until you finish the rest of the dinner.. serve warm..