OLD FASHIONED POPCORN BALLS
my elderly  neighbor Thelma made Old Fashioned Molasses popcorn balls every Halloween. My boys looked forward to them and so did we. 
Thelma Popped her own corn I have done both. Tonight I did two batches and so I used some stove popped corn as well as some Kettle Corn popped in microwave and mixed them together.  (Make sure you pick out all of your un popped kernels.)
 I didn't measure my corn but I used this much as you can see in the photos below because I did two batches  and just a tiny tad of oil in my pot.. make sure its hot enough to pop but shake frequently not to burn corn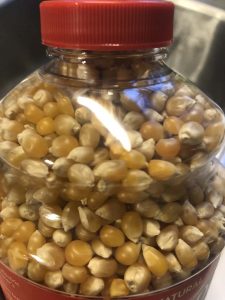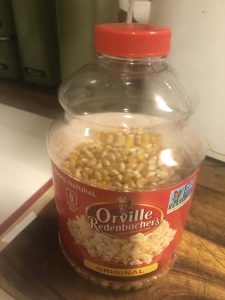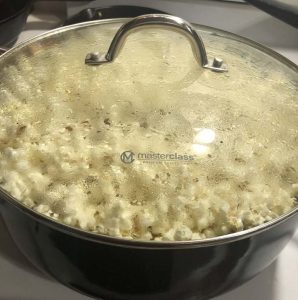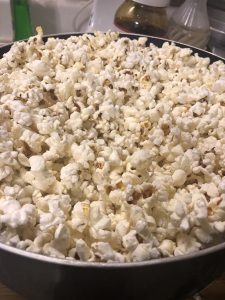 NOTE: for one batch of popcorn I used 4 -5 quarts of popcorn (about  17 or 17 cups of popcorn because 8 cups is 2 quarts)
3/4 c white granulated sugar
3/4 c old fashioned molasses or brown sugar Packed 
1/2 c light white corn syrup
1/2 c water
1 tsp white vinegar
1/4 tsp salt 
3/4 c butter
Tsp Vanilla at end of cooking
AGAIN : Be sure and pick out all unpopped kernels
Measure popped corn into large bowl.
Keep some extra in another bowl just in case you need to add a little  (I mixed some microwave Kettle Corn … Set aside)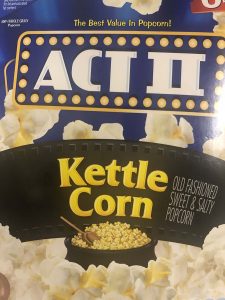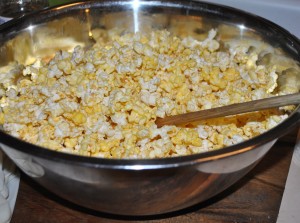 NOTE.. VERY IMPORTANT
use good old fashioned molasses for this..
NOT the brier rabbit brand (brier Rabbit kind is thiner and darker and tastes different too..it can be used in making homemade cracker jacks  
Notice lower photo .. first time I made it it turned out awful BECAUSE of using the wrong molasses….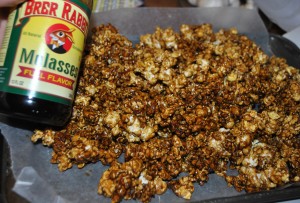 Use a good old fashioned sorghum molasses it will be thicker and will cook into a much lighter caramel color and it will taste like good warm caramel when done.. very good!!!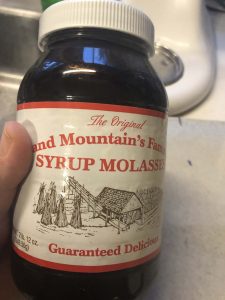 I use Sand Mountain Sorghum Molasses http://www.sandmountainsorghum.com/lasses.htm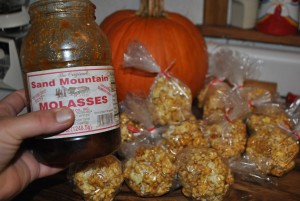 Ready to make it ?
have 2 cookie sheets ready with wax paper lined

Ok so you have your popcorn popped and picked for kernels and already in a big bowl and a extra bag that you popped to the side so you can add it as needed (according to how the mixture feels when mixing it)
DIRECTIONS
Combine sugars corn syrup water vinegar and salt in 2-qt saucepan heat to boiling over med high heat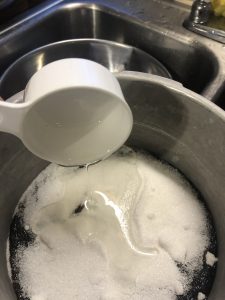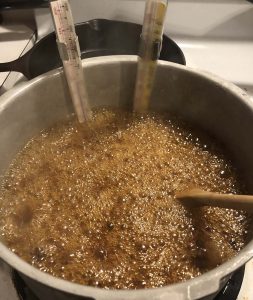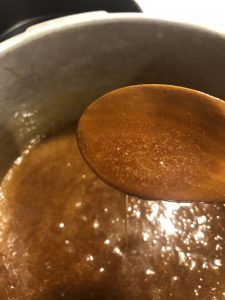 stirring frequently cook stirring constantly to 250 on candy thermometer or till small amount of mixture dropped into cold water forms a hard  candy type ball
Have your butter cut up in slices ready to go in … reduce heat to low stir in butter till melted add in tsp of vanilla and take off heat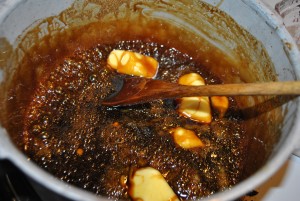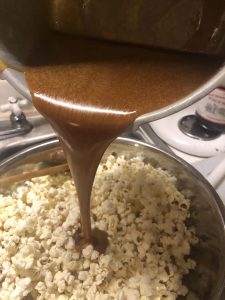 pour syrup in thin stream over corn in bowl,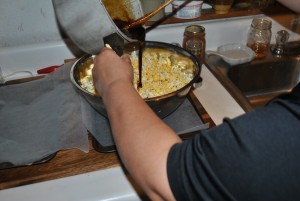 stirring till well coated with wooden spoon.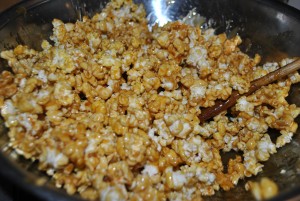 spoon some out and put onto your lined cookie sheet to cool quicker.. this is where you will form your balls 
Cool slightly butter hands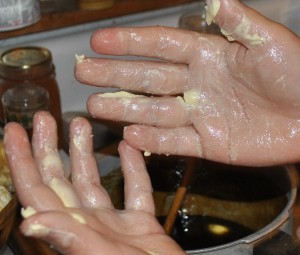 VERY CAREFULLY (you can burn yourself bad) shape mixture into 3
-inch balls or
smaller if stretching for crowd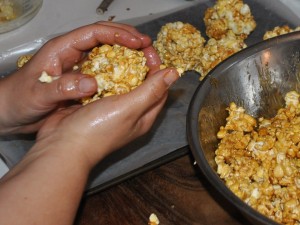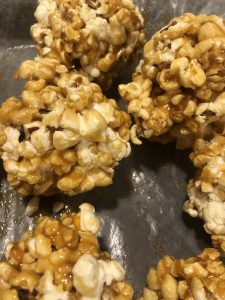 s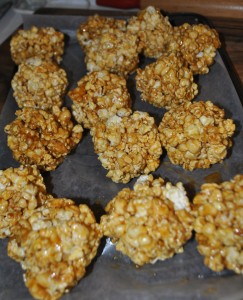 Now once firmed up  you can put into clear plastic baggies with ties to
stay fresh and to give out..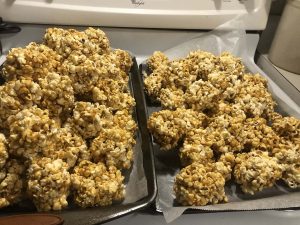 two batches made about 70 small ones 
Notice I almost filled up an Aldie Bag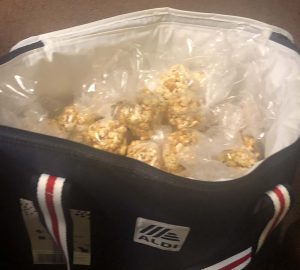 =)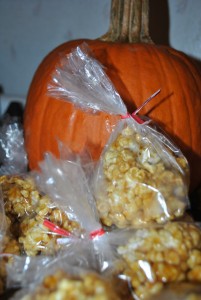 These can be made ahead of time if you plan on making for a special occasion. they do really well as long as wrapped as pictured.