NY Strip medium rare, Russet Potato American Fries spiced with curry & cumin, steamed Broccoli, sauteed Mushroom Garlic & Red Pepper.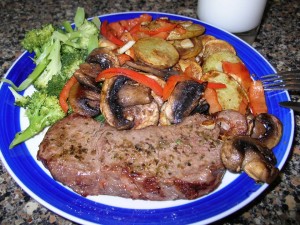 ..and Oregano on the steak. That was so delicious, and I didn't use any salt or pepper, other than red pepper
The raw potato I thin sliced (faster cooking) after scrubbing, olive oil in pan, and sprinkled a little curry powder & cumin on the top side. Then flipped them when I added the mushrooms, red pepper & garlic. Steak went in the broiler when I flipped the potatoes. The whole prep/cooking process took about 15-20 minutes.
I'm not sure if this is a common cookware item, but it's got 4 legs to sit above the water in the pan for steaming. I started the broccoli in this first before all else. (stainless steel of course)