Chicken Fried Rice with Chinese Eggplant, Scallion, Shallot, Choy Sum, Pea Pod, Ginger, (minced Hot Pepper & Soy Sauce marinade for Chicken breast), Bean Sprout with splash of Rice Cooking Wine.
Choy Sum, Scallions & Pea Pods ready & drained.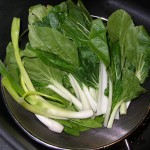 Chinese Eggplant, Shallots & Ginger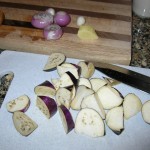 Chicken Breast marinade in Kikoman's Soy Sauce & minced Hot Peppers.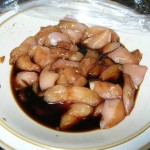 Wok on high heat, add olive oil, add chicken & marinade.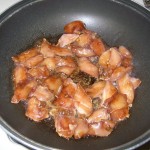 .. add eggplant…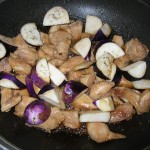 while cooking, slice shallots & mince ginger…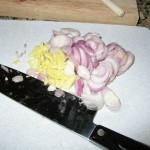 ..add to pan..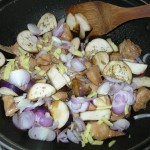 slice scallions…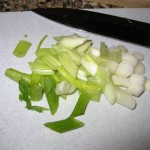 add scallions to pan…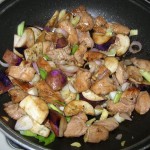 add pea pods…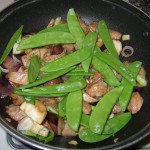 rough cut Choy Sum…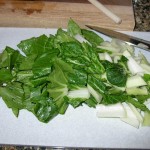 add Choy Sum stems first as leafs will wilt very fast later..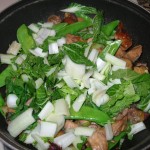 choy sum leafs added..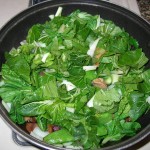 rice ready to add cooked earlier.. (1 part rice to 2 parts water), boil, simmer, when near done turn off the low heat and cover.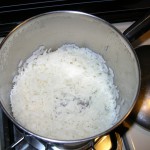 Ready for rice..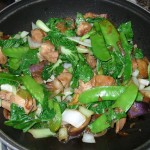 rice added..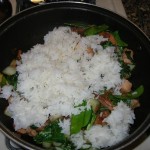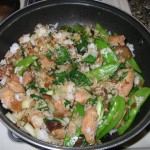 Bean Sprouts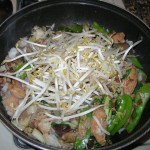 stir in bean sprouts , turn off heat & cover.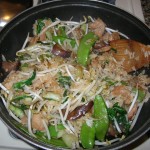 Plated meal…cooking time start to finish: 15 minutes
It should only take 10 minutes or less..must have been the picture taking. High heat & fast cooking = crunchy vegetables