SWEET & STICKY SALMON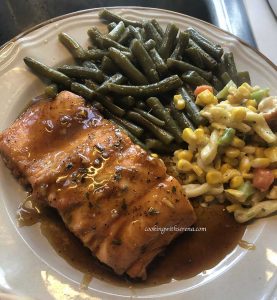 Salmon
skin on
Salt and pepper,
to season
tablespoon olive oil 
dusting of paprika
4 tablespoons
butter (or more)
6
cloves
garlic,
finely minced
1/3 cup
honey
3 tablespoons
water
2
teaspoons
soy sauce
1
tablespoon
 lemon juice
1/2 cup or so brown sugar 
maple syrup to taste 
parsley flakes
 Preheat oven to broil 500 degrees
Rinse Salmon quickly in one sweep  in cold water and pat dry your Salmon very lightly with paper towel
Get out a 10 inch Cast Iron skillet (you can use the same cast iron skillet for the broiling part in the oven if your making a small amount, but if you are making a lot you should also have a 9×13 heavy bottomed baking dish.  I like to use my coated Le Creuset for this as it heats evenly and is great for such a sticky dish.)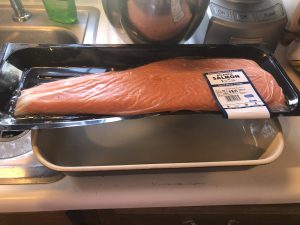 Season your fish!
lightly sprinkle salmon with salt, pepper,  paprika. and a small drizzle of honey across the top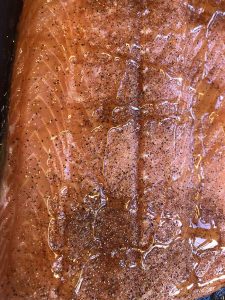 Add the olive oil, and  butter to skillet over medium-high heat, add in Soy, garlic, honey, couple tablespoons of water,  lemon juice, brown sugar and maple syrup…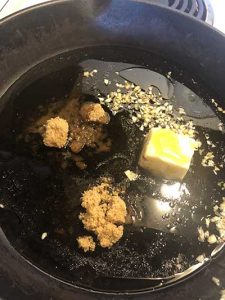 heat through and  it will come to a boil. Using a whisk keep it moving as not to scorch and add in a little more brown sugar. Let it cook a minute as you stir.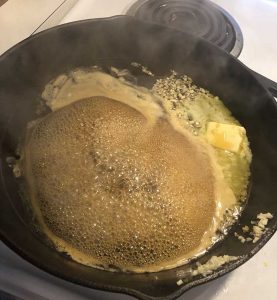 Add the salmon skin side down  to the sauce in the pan,  cook skin-side down or 3-4 minutes, while spooning the sauce over the  top of the salmon.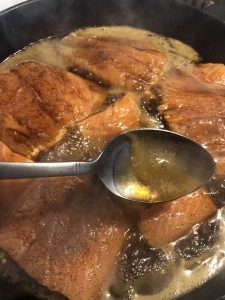 Ready for oven,, now is when you transfer your fish to your 9×13 if you are doing a whole filet or more. I spray mine first with some bakers joy. (again if you are doing a small amount just keep it in the cast iron and transfer the whole pan to the oven)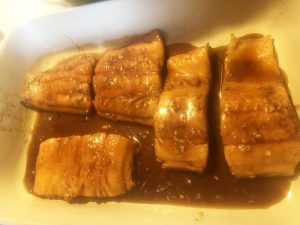 I add salt and a little  Parsley to the top with another hit of honey. Spoon a good amount of sauce on your fish … I like to continue to cook the rest of mine on the stove to thicken but you dont have to do that you can just pour it all over it if you wish….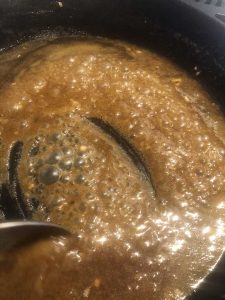 place your fish  in oven to broil for  about 7 minutes,  broiling until salmon is caramelized. Spoon any leftover sauce over fish and to plate fish with.
Once fish is out of oven let it rest a moment.. the sauce will be super hot.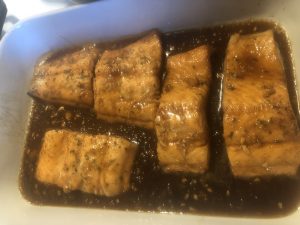 drizzle with the sauce
Serve with a side of vegetables like green beens and sautéed vegetables or over rice or with backed potato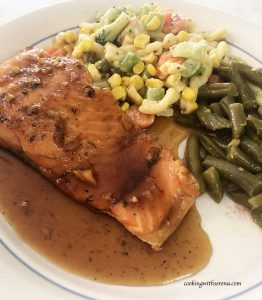 October 2023
M
T
W
T
F
S
S
« Sep
1
2
3
4
5
6
7
8
9
10
11
12
13
14
15
16
17
18
19
20
21
22
23
24
25
26
27
28
29
30
31