SUGAR GLAZED Bacon Wrapped Pork Loin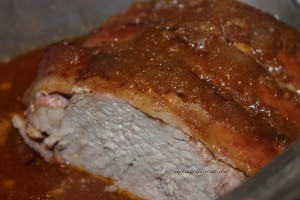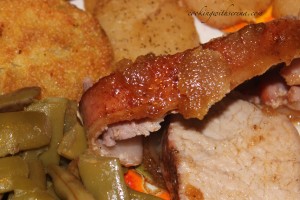 Ingredients For Pork Rub :


1 Tbs chili powder
1 tsp paprika
1 tsp salt
1/4 tsp black pepper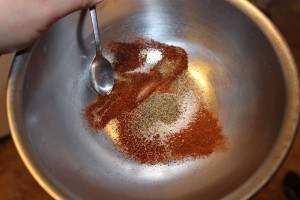 You will Need:
3-4 pound boneless pork tenderloin
olive oil or Veg. Oil
8-14 slices of bacon .(you can wrap the whole thing top to bottom  14 slices- or just top. 8 slices… your choice)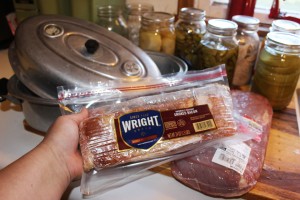 NOTE:
For the Glaze- I make this recipe twice- make the first pot-  then glaze-  then make another about 30 minutes later and glaze again.
Ingredients for Glaze:
white sugar
touch of pure honey
1/2 cup brown sugar
1 1/2 Tbsp Red apple cider vinegar
1 TBS flour
1/2 tsp Dijon mustard
a dash Red pepper flakes
in a small saucepan,  combine brown sugar a little white sugar, a little honey vinegar flour and mustard, whisk to combine and heat until just boiling.  Taste and adjust. sprinkle in red pepper.  Taste and adjust to your liking.  As stated above spoon over the pork  after it has been cooking 30 minutes  sprinkle  on some white sugar, 20 minutes later, repeat with another pot of glaze, then cook about 30 more minutes.
DIRECTIONS
preheat your oven to 350 degrees.

Trim off any thick fat off of the bottom of your pork loin roast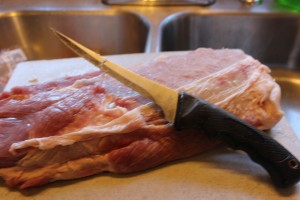 Rub down pork with oil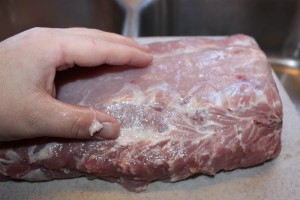 Combine chili powder, paprika, salt and pepper in a small bowl and blend it.
Saving 1 tsp of the rub,  Sprinkle all but that left over tsp front to back, rubbing in.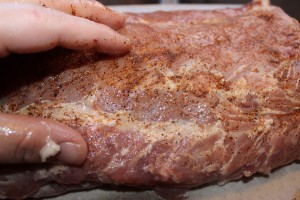 Now lay out your bacon..8 strips on bottom, 8 strips for top.. (you only need to do the top with bacon so don't fret if you don't have a lot of bacon.. just do top, cause that is what is good anyways)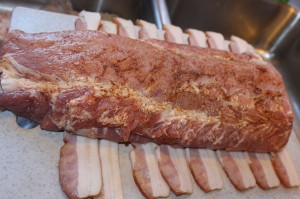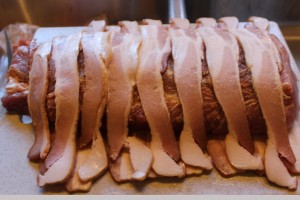 wrap the pork with the bacon . As you wrap it make sure the ends of the bacon are tucked under the pork.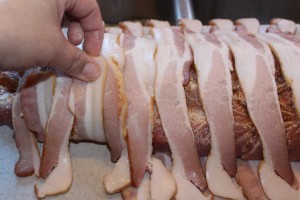 Overlap the bacon slices so they won't separate as they cook.   you can use a skewer or toothpick here and there to secure some spots if needed. Use last of rub and sprinkle over top.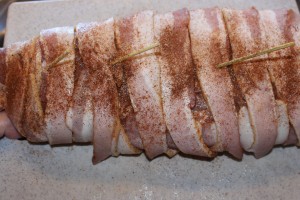 Carefully place in your baking pan. Drizzle a pinch of oil along the bottom.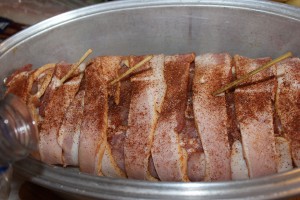 Place it into the oven and cook for 30 minutes,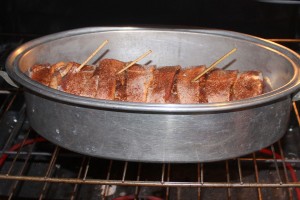 close to end make your first pot of glaze and when thirty minutes is up spoon  the glaze over-top and bake for 20 minutes more.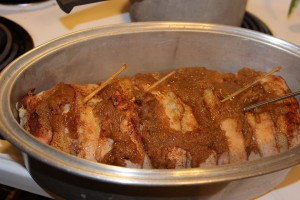 Your second pot of glaze you should have ready to glaze over-top  Sprinkle white sugar over top and bake an additional 30  minutes or until your pork is done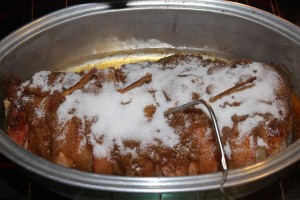 (cook time will vary by size of meat I use digital Meat Thermometer to make sure with my Pork Loins.. when it reaches desired Temp you take it out ..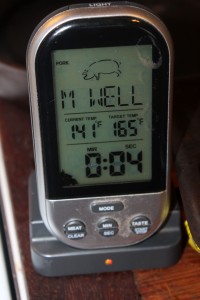 After you take it out..let it rest while you plate your table and finish your other sides your working on.
Tonight my sides are green beans and some of my fried tater slices as well as some of my canned green garden tomatoes from summer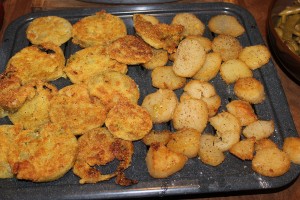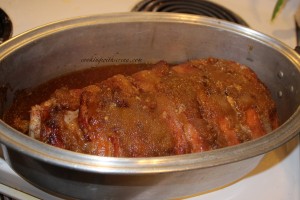 Serve up and Enjoy!!!