SERENA'S EASY STRAWBERRY -LEMON QUICK STOP CAKE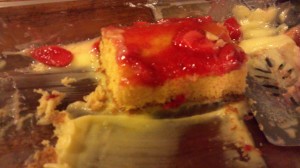 I make my own strawberry glaze, very tasty and easy.. you can use frozen or fresh strawberries.. today I am using fresh. Just take two pkgs strawberries wash and hull tops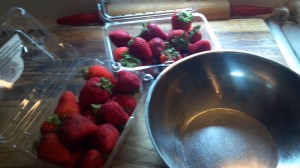 cut in slices,.. some small some large chunks.. (random)
Pour 3/4 to 1 cup of granulated sugar over strawberries..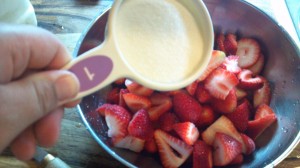 mix well and put into your heavy saucepan on stovetop.
Now since these are not partially frozen, they are fresh I will add 1/8 cup water (if I was using partially frozen strawberries I would not need to add water)
Add a good squirt of Karo Syrup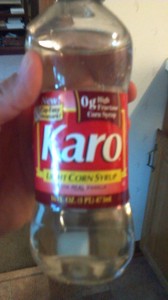 Now in a small cup add 2 Tbsp cornstarch and a couple tbsp water, (just enough water is needed to mix it just enough to where you can pour it)..
Cook strawberries they will begin to make their own juice.. stir with wooden spooon..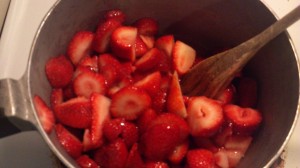 don't let it stick, then once your sugar granuals have cooked down to where they are dissolved you will pour in your cornstarch water mixture..
stir well and turn down heat.. once thickened take off heat and put on wood block in fridge to COOL..  you want this to start cooling as fast as you can.. cause it wont take long at all to make your easy cake….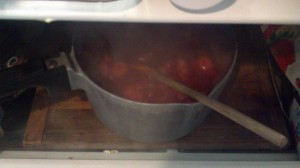 This is fast and simple.. perfect for summertime. It is delicious but lite on the pallet..
you can make  your own homemade favorite vanilla cake batter if you wish or just do like I am today and use a Duncan Hines Box Yellow Cake mix
Then to your yellow batter you will pour in the dry powder of a small lemon instant pudding mix.. mix well into batter
Spray a metal 9×13 pan with bakers joy or grease and flour well.. pour your batter in the cake pan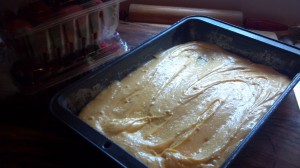 and bake till done at 350 usually about 23 minutes.
Now.. take cake out and let it cool COMPLETELY..
you now take a small box of lemon pudding instant mix and mix with 2 cups of cold milk till thick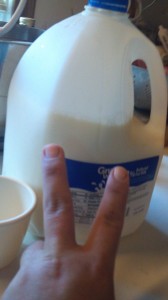 Pour your pudding into a 10.5 x 14.75 x 2.25 Glass Baking dish. (it is slightly bigger than a 9×13 cake pan, some call it a lasagna pan)
Put your pudding in the fridge to chill while your cake is still cooling on the counter.
once totally cool.. take your cake and flip it out of the pan..and put it right on top of the pudding in the glass pan should fit nicely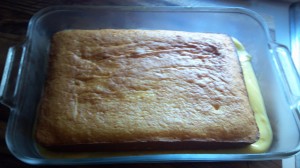 Now pour your totally COOLED homemade strawberry glaze over top and down edges..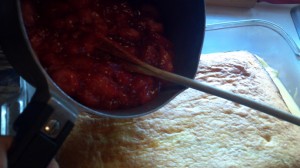 cover edges can garnish with a whole strawberry or dollop of cream if you have it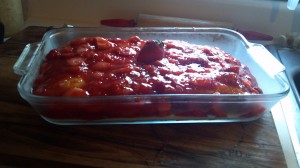 put into fridge to chill until serving time.. very light easy and delicious..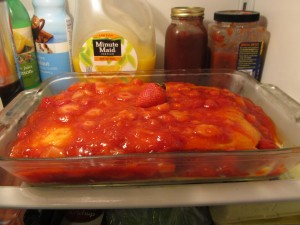 Serve Cold and Enjoy