Photo and Recipe SUBMITTED BY: Vanessa Thompson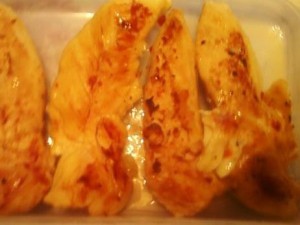 Simple Italian Chicken:
4 skinless, boneless chicken breasts, each split into two pieces.
8 oz Italian Dressing
Put chicken breasts in bowl, cover with Italian dressing, cover bowl with aluminum foil and allow to sit in fridge 24 hours. Preheat oven to 375 degrees. Place chicken breasts in baking pan pouring dressing from bowl over them. Bake for 1 hour. Excellent!
Kathy McClurg Galford This is good if you substitute Italian dressing for French dressing.
I like it better than the Italian dressing.
It has the taste like bbq chicken, only a "light" version.