"LAZY LIVER" – SERENA'S EASY CROCK POT BEEF LIVER N' ONION IN BROWN GRAVY

Serena's Easy Crock Pot Beef Liver N' Onion In Brown Gravy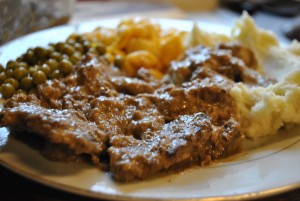 Okay guy's so no other recipe can beat my mom's homemade pan fried beef liver and onions in gravy (FIY her recipe also on this site) BUT this is a close second and it skips all the work… I LOVE to cook all the old homemade scratch recipes but some days let's face it.. I am in a rush.. Mom on the Go I call it. Today was one of those days.. head hurting plus had to work , my liver was frozen solid.. and with mom's recipe you have to start out with thawed liver.. pound it to death for EVER before you can even start.. I had no time for this today.. SO ….. here is what you do.
Chop up a medium onion
take 2 packages of beef liver, frozen right out of the freezer and throw in the crock pot
1 1/2 cups water
2 beef bullion cubes
1 stick of butter or Blue Bonnet margarine
lots of salt and pepper
put lid on and let er at it on high
about 2 1/2 hours or so later you will see your liver has gotten a good start at getting tender.. you now will take some of the liver stock and use it to make a quick batch of homemade gravy on the stove
make your brown gravy same as you would normal only using the liver stock instead of water to mix and one can of cream (how to make homemade  brown gravy recipe can be found on this site as well)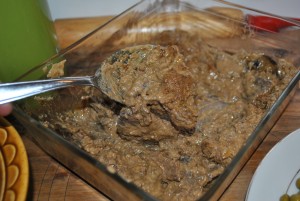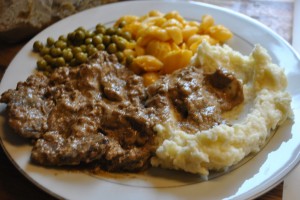 Pour your brown gravy over top of liver in crock pot and turn down to low.. put lid on and go about your day.. when you return your supper will be tender and delicious you can cut it with a fork.
October 2023
M
T
W
T
F
S
S
« Sep
1
2
3
4
5
6
7
8
9
10
11
12
13
14
15
16
17
18
19
20
21
22
23
24
25
26
27
28
29
30
31