SERENA'S 4 CHEESE STUFFED CANNELLONI (OR MANICOTTI) WITH MEAT SAUCE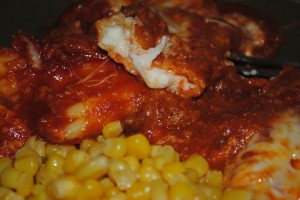 4 Cheese stuffed Cannelloni/Manicotti  with Meat Sauce
SAUCE:
3 cloves minced garlic
1 1b ground chuck
1/2 Onion chopped fine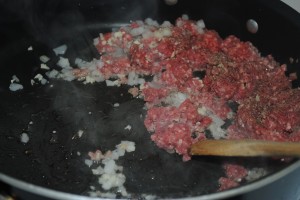 Tsp Parsley flakes ( estimate I just sprinkle them in)
Salt Pepper to taste  I shake it in while browning meat and  later in sauce..
1/4 cup Grated parmesan Cheese
little bit of oil to brown garlic beef and onion in..
1  lg regular can Hunts Tomato Sauce + fill it with water and pour in
1 regular can of Hunts Tomato Paste + fill it with water and pour in..
a pinch of oregano
tiny bit of sugar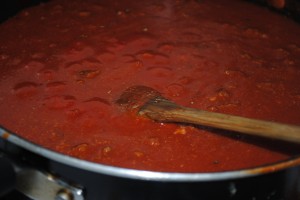 then stir with wooden spoon bring to boil and then put down to simmer the rest of the time while you are filling shells. Make sure you taste to make sure sauce is to your liking before you put in dish…
CHEESE MIXTURE :
1 large egg
3cups grated mozzarella cheese (1 Bag)
1 15 oz carton of Ricotta Cheese (2 cups)
1/2 cup small curd Cottage Cheese
1/2 c Parmesan Cheese
Can add spinach ect at this point or move on…
Make sauce… Get your Casserole dish, or 9×13 and put some of your sauce in the bottom of dish.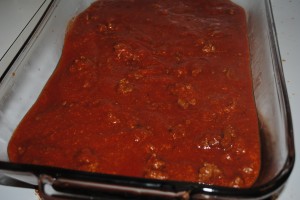 Then you need to mix up your Cheese Filling, and Fill your Shells using your hands or you can pipe them.. with this dish I would just use my hands if I was going to make them and just ladle sauce over them for  a fancy dinner I would Pipe them in.. but this dish is more of a casserole effect and no one can tell the difference anyway so why go through the trouble of piping.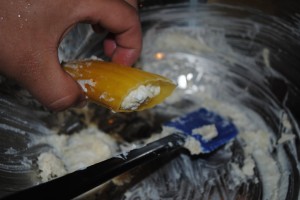 NOW… you need to place the filled UNCOOKED shells in a row on the sauce as you fill them..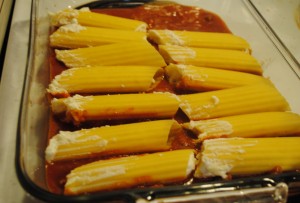 since this is a casserole type dish we are making… any cheese mixture leftover if any you can put over top of the shells I wouldn't throw it away…
NOW… take the rest of your sauce and spoon over top your shells.. try and cover them good.Cover with a sheet of wax paper..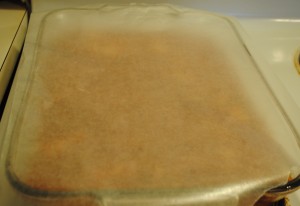 (NOT aluminum foil as the acid in the tomatoes and the aluminum are a bad combination under extreme heat) then take pan same size of casserole dish if you have it and place over top to make your own steamer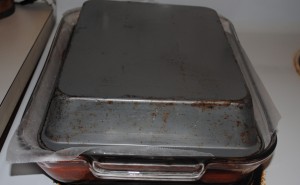 place in 350 degree oven for 45 minutes.. take out and place knife in center of one of shells to see if it is tender… if so take a whole bag of mozzarella cheese and put over top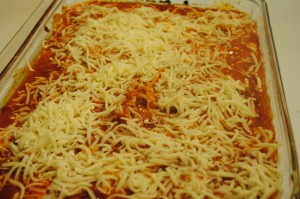 then put back into oven  UNCOVERED on BROIL till top is melted and bubbly..
take out place on wood block and let it rest for a bit before serving…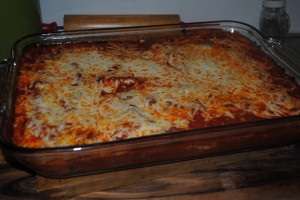 make a salad or something … it will still be warm… then serve with bread or saltine crackers corn and salad.. =) enjoy