SERENA'S 3 BEAN HAM & COLLARD GREENS SOUP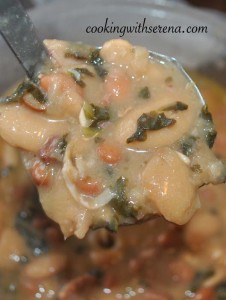 Okay so this is a very simple and hearty meal that is FULL of flavor and it is best served up with a pan of sweet yellow cornbread and some cheesy mac and cheese.  Don't judge it by it's looks.. it might not look good but it sure tastes good.
I have a very large crock pot and this recipe comes RIGHT to the max of my crock pot.. so if you have a small crock pot you might wanna not put the whole bag of beans and just  half them..
For this whole recipe start to finish, you will need
a bag of mixed beans (navy beans and Pinto beans)
a bag of Lima beans
3 ham steaks with bone
pepper
(may need salt later, it is according to how salty your ham was don't add salt till end)
garlic 3 cloves, minced
small onion, minced
1 stick butter
1 can of drained collard greens
water to cover beans.. as beans cook down will continue to add water so beans always stay submerged in liquid
So I don't measure this recipe.. it is like I said really simple.
I just started out by washing my beans.. and I took my ham steaks straight from the freezer.. no need to thaw..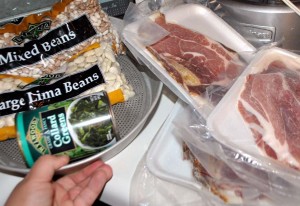 now after washing your beans and looking them for rocks ect.. drain and put them into your crock pot.. like I said my crock is very large and I am making ALL my beans because I am giving half this dinner to my mom.. but you may not want to make such a large amount or your crock may be smaller and can not even handle this cause remember beans swell.. … Okay just halfen the beans and use what you want of each bag if that is the case..
Next cover with water and put your ham steaks in the pot.. no need to thaw them..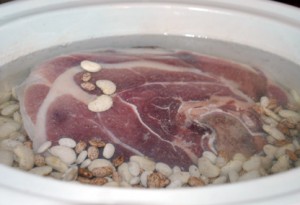 get your onion and garlic and chop up small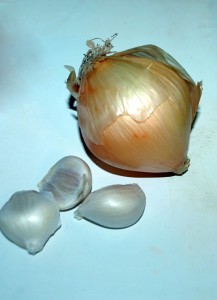 Add the garlic and onion to the crock and pepper it very heavily.. put on lid.. do not add salt at this point.. your ham may be very strong and it is better to wait till ham is cooked before adding the salt cause you may need very little or none at all..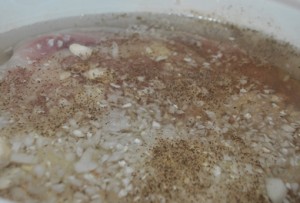 at this point you can put on low and go to bed.. get up of course once or twice to check to see if you need to add water… never let your beans cook down below water level.. they must always be submerged in liquid.. or else they dry out and burn and are nasty..
Now next morning I get up and I put my beans on keep warm.. and I go about my very busy day..  about noon I added a stick of butter to my beans and I tasted to see if salt was needed. I also took out the ham bones.. and I stirred it well then added my drained can of collard greens.
I made a pan of sweet yellow corn bread and some mac and cheese and when kids were ready for supper they had a nice hot warm meal, and I also had plenty of food to take a whole meal to my mom and dad. All at little to no effort at all.. the cornbread was harder to make than the bean soup.
Enjoy!