Scratch Milk Biscuits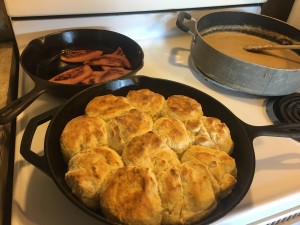 4 c self rising flour
2 c cold cold milk
1 stick cold cold salted butter cubes
1 Tbsp veg oil
1 cast Iron Skillet
Do by hand or in food processor.
On hot day I like to use food processor because it gets it done quicker without the dough getting handled as much
By hand add flour to the bowl and using pastry cutter, cut in the cubes butter until it looks like lumpy beads in the flour. Next add slowly in as you stir, some cold cold milk. Add enough to get a sticky big lump of dough.
Lay out a strip of wax paper .. dust with flour
Let your dough sit on the wax paper.. dust top with some flour.. now pat it lightly just till it lays even.
Now cut out rounds.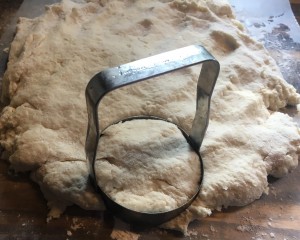 Have oven preheated to 425. Put cast iron in there to get hot, carefullybtake out and add in 1 Tbsp veg oil brush it around then place your biscuits in the skillet .. put in oven, brush tops with melted butter , bake for 15 min while you make your gravy. Last 2 minuutes switch oven to broil so the top of biscuits will brown nice .. watch careful not to burn. Take out and brush melted butter over tops of biscuits enjoy