SAUSAGE BALLS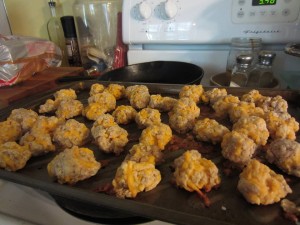 sausage balls just out of the oven:
1 roll sausage (jimmy dean hot),
3 cups grated cheddar cheese,
3 cups bisquick…
mix all together by hand then roll in balls
place on greased cooking sheet. bake 15 minutes in 350* oven.
Facebook Comments
Kelly C. Douthit
I have used this recipe for years but lately found that 1 1/2 cups Jiffy Mix Or Bisquick instead of three cups makes them better.