So my sister in law Melanie made these for her baby shower the other day.. and I took the pic.. WOW they looked good.. I didn't get to  grab one cause I had to leave after taking pics and run to church…. but I asked for the recipe …  ' ) wink.. here it is.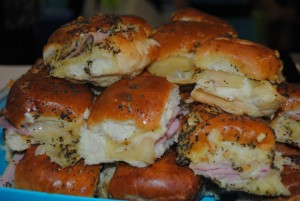 RECIPE SUBMITTED BY Melanie Vance Ellison
Poppyseed Sliders
-24 white dinner rolls
24 slices honey ham
24 slices swiss cheese
1/3 c mayonnaise
1/3 c miracle whip
1 T poppyseeds
1 1/2 T yellow mustard
1/2 c butter, melted;
1 T minced onions
1/2 tsp worcestershite sauce
….In a small bowl combine mayo & miracle whip. Spread onto both sides of the center of each roll. Place 1 slice ham & 1 slice cheese inside of each roll. Close rolls & place into large baking dish. Place them very close together. In medium bowl, whisk together remaining ingredients.
Pour evenly over all sandwiches. Let set at least 10 minutes, or even all night. Cover with foil and bake at 350 degrees for 12-15 minutes or until chesse is melted.
Uncover and bake an additional 2-5 minutes or until tops are crispy and slightly brown. Serve warm.