RECIPE AND PHOTO SUBMITTED BY Ted Crawford
Poor Man's Pizza. Good toast, sliced tomato, your choice of cheese & toppings, sprinkle some garlic powder & oregano on top, nuke.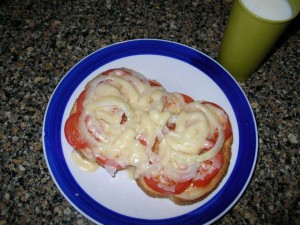 It's so easy to make and fast too. This one was: Comfort food standby. Sour Dough Toast, Roma Tomato, thin sliced Onion, and some really STINKY Provolone Cheese.