RECIPE AND PHOTO SUBMITTED BY Kay Snyder
Polish Christmas cookie: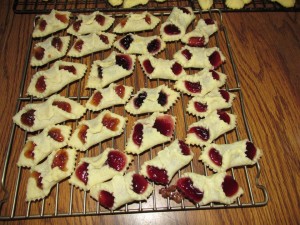 1/2 c.(1 stick) of soften butter
4 oz. of cream cheese soften
1 c. flour
Beat butter and cream cheese in a med.size bowl with a electric mixer at med speed until smooth and fluffy.
Gradually add the flour, beat at low speed until mixture forms a soft dough. Divide dough ball in half and wrap each ball in plastic wrap.
Refrigerate 1 hr. or until firm.
Preheat oven to 350 degrees.
Roll out dough,half at a time on a floured surface to 1/8th" thick.
Cut into 2″ squares
spoon 1/2 tsp of jam or jelly of your choice into the center of each cookie square.
Bring up 2 opposite corner to the center and pinch together tightly to seal.
Fold sealed tip to 1 side and pinch to seal.
Place 1″ apart on ungreased cookie sheets and bake 10-13 min.
remove to cool rack and cool completely dust with powdered sugar, Lightly.
Enjoy
Note: I used a pastry cutter to get the ridges in the dough.