PIG SOUP
I Make this with my instant pot or my big pressure cooker but you can use a regular cast iron pot with lid as well it just will take a LOT longer and let's face it we ladies are busy nowadays with jobs other than home.
This soup has a FANTASTIC broth .. just hits the spot!
1 very large head of cabbage
1 large onion sliced into rounds like for a hamburger
2 garlic cloves minced
Little veg oil for sautéing
1-2 stalks celery chopped small
Salt pepper
Skinless boneless pork cut into bite sized and larger pieces
Baby carrots
4 cups water
1 can chicken broth
2 sticks butter
4-5 Potatoes cleaned washed and scrubbed -skin left on and cut into meaty thick portions
1/4 c sweet baby rays bbq sauce
In instant pot add a little veggie oil and half of your sliced onio,
Your garlic , minced, and your bite sized pork
Place in instant pot push Sauté butten and just sauté in pot with salt and pepper until browned a little .. pour in can of chicken broth
And the water .. add celery carrots potatoes and 1/3 of your cabbage cut in large chunks salt pepper well and place lid on pot pressure cook 18 minutes under stew button
Then when it's done open take OUT all potatoes and carrots, place in in bowl with a stick of butter as you do last step
In instant pot add rest of cabbage and onion .. add in The BBQ sauce didn't measure it was like 1/3 cup, just enough to boost flavor
Salt and pepper again – yes again
Place lid back on and cook 8 more minutes
Open add back in the potatoe chunks and butter
Insanely good!!!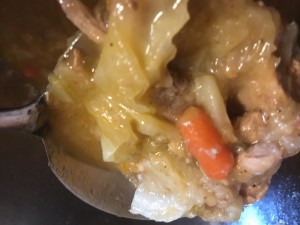 May 2023
M
T
W
T
F
S
S
« Feb
1
2
3
4
5
6
7
8
9
10
11
12
13
14
15
16
17
18
19
20
21
22
23
24
25
26
27
28
29
30
31