My sister in law brought this home from her Easter weekend in the northern part of Mississippi. She was told it was called a dream cake. It was like a coffee cake with a layer of brown sugar and pecan in the middle and topped with the same mixture with hints of cinnamon. Not dense at all and SO yummy. I've been thinking about it after I ate my slice. Lol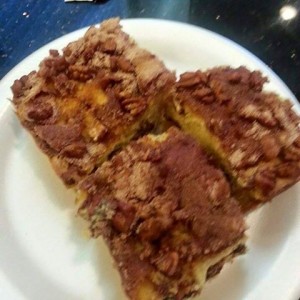 Pecan Dream Cake
1 1/2 cups pecans, chopped,toasted

3/4 cup packed brown sugar

1 tablespoon ground cinnamon

3 cups all-purpose flour

1 tablespoon baking powder

1 teaspoon baking soda

1/2 teaspoon salt

1 cup butter, room temperature

1 1/2 cups sugar

1 1/2 cups sour cream

3 eggs

1 1/2 teaspoons lemon juice

2 teaspoons vanilla
For The Filling: In a small bowl combine pecans, brown sugar, and cinnamon.
Stir well, and set aside.
For The Cake: Preheat the oven to 350F.
Butter and flour a 10 inch bundt pan.
In a large bowl, sift together the flour, baking powder, baking soda, and salt.
Set aside.
In another bowl, cream the butter and sugar until light and fluffy.
Add the sour cream and mix until incorporated.
Add the eggs, beating after each individual egg addition.
Add lemon juice and vanilla, mix until well incorporated.
Add half of the dry ingredients.
Mix.
Add the remaining dry ingredients and mix until smooth.
Pour half the batter into prepared bundt pan.
Distribute filling evenly on top of the batter.
Add the remaining batter.
Bake for 45-50 minutes or until a wooden toothpick comes out clean when inserted.
Cool for 10 minutes before inverting.
If desired, dust with powdered sugar before serving.