Peanut Butter Overload Bars (pic taken before cutting) with mini PB cups, PB Snickers bar, Hershey's Chocolate Melts and PB in the batter.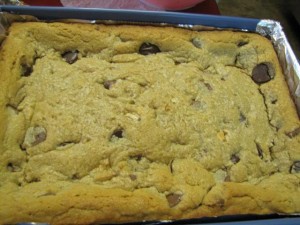 PEANUT BUTTER OVERLOAD BARS
Ingredients
3 cups all purpose flour
1 Tbsp baking powder
1/4 tsp baking soda
2 sticks salted butter, slightly softened
1 cup smooth peanut butter
1 1/4 cup packed brown sugar
1 cup granulated sugar
2 tsp vanilla
4 large eggs
1 cup milk chocolate chips (I used Hershey's Drops, a new kind of chip I saw at Walmart — they're great!!)
1 cup Reese's Minis (the tiny ones that come unwrapped in a big bag)
10 fun sized Peanut Butter Snickers, quartered
Instructions
Preheat oven to 350. Lightly grease a 9×13 pan or spray with cooking spray. Set aside.
In a large bowl, combine flour, baking powder, and baking soda. Set aside.
In the bowl of your mixer, beat butter, peanut butter, and both sugars on medium speed until light and fluffy, about 2 minutes.
Stop the mixer to scrape the sides of the bowl before adding the eggs one at a time, beating after each. Scrape the sides of the bowl again.
With the mixer on low speed, slowly add flour mixture until incorporated. Using a wooden spoon, make sure all the flour mixture from the bottom of the bowl is mixed in (batter will be thick). Fold in chips and candies and spread in prepared baking pan.
Bake for about 30 minutes, until batter is puffed and brown on edges and dark golden all over. Let cool on a wire rack before serving.