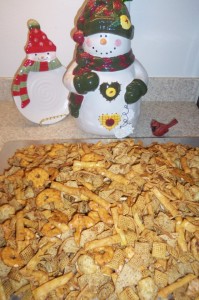 In Lg bowl,I put anything that is crunchy.
I use broken up multigrain Tostitos, Corn Chex,Rice Chex, Pretzels,peanuts, pecans,(or mixed nuts)anything you like.
In a pan,add one stick of butter,plus 3 Tbls. Add 3 Tbls. Worcestershire sauce.heat till butter is melted.
Pour over all and toss till well coated.
Sprinkle seasoned salt, garlic granules,onion granules.
I use close to 1 tsp. of each.
Put on large cookie sheet, or in roasting pan and bake at 250, for an hr.
Watch that it doesn't get too dark.I store mine in Lg. Tupperware mixing bowl.
Note: I use about 12 cups of crunch….so I use more butter and W. sauce.
You can buy the little long stix in an Asian food store.