OLD TIME FRIED CABBAGE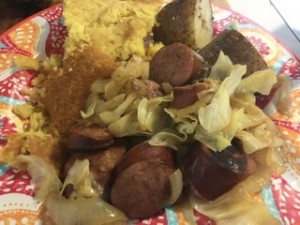 Nothing like good ole Cornbread and Cabbage with lots of butter and lots of flavor from your Smoked Sausage, bacon, or Keilbassa
Use what you got.
First fry your meat up in pan.. I am using Smoked Beef Sausage
Next throw in a small sliced onion
Have your cabbage ready by peeling off all outer leaves cutting out core and chopping in medium size chunks
Throw half a stick of butter in with onions and meat then add cabbage
Salt and pepper well
Toss as you fry cabbage … add the other half stick of butter
Turn down heat and put lid on cabbage
Keep a check on it while you make your cornbread.. give it a stir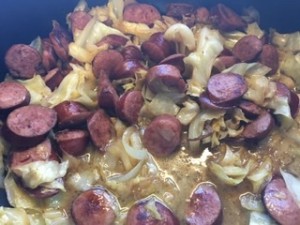 When your cabbage has a brownish tint and is tender and melts in your mouth with a slight bite.. it's done.. turn off heat take off lid.
Serve with Sweet Southern Cornbread .. I like to add a little creamed corn to my cornbread sometimes too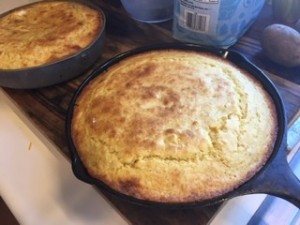 DELICIOUS AND CHEAP!!!!!