MUSTARD PICKLED EGGS
Recipe and Photo Submitted by BRITTANY BENNET = Brittany first saw recipe on Gazette.com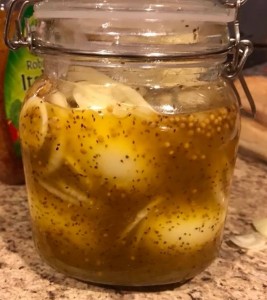 2 Cups White Vinegar
2 Tbsp Mild Mustard or Plain Yellow Mustard (honestly you could probably use any kind and make them hot and spicy if you like)
1/2 cup water
1 cup sugar
1 Tbsp salt
1 Tbsp Celery Seed
1 Tbsp Mustard Seed
6 Whole Cloves
1/8 Tsp Turmeric
2 Onions sliced thin
12 hard boiled eggs, peeled
Add Everything to Saucepan except for onions and eggs. Bring to boil and then put to simmer for 10 minutes.
Remove from heat and let cool.
Layer onions and eggs in jar and cover with pickle brine.
Cover with lid and put in fridge to brine.
Let it sit at least 24 hours.