With my boys help we made these cute cupcakes this evening. No big recipe but it was lots of fun and easy to make! Just make your cupcakes, cool and frost. Cut a twinkie in half and decorate it and stick it on top. Ours are meant to resemble the little minions on the Despicable Me movies. 🙂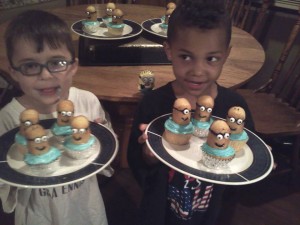 Comments from Tried And True Recipes on Facebook
Lillian Dunford Bowen Awwwww so cute!
Patricia Stover

What a neat idea for kids!!! They are cute and adorable and the kids look so proud! Cudo's to you, Amanda!

Amanda NayNay

yes the head is half of a twinkie..the eyes are actually candy eyeballs I found in the craft/candy making section at wal-mart in the same aisle is where I found the tube of black decorating icing to make the mouth and goggle strap. You could also use little candies for the eyes..smarties or sweettarts. I tried to use little chocolate sprinkles to make hair on top but it proved to be too tedious because the sprinkles I had were too tiny to grab on to.

Felicia Lisa

Amanda… I LOVE THOSE LITTLE GUYS… and those are the cutest cupcakes EVER and soooo creative of you!! Also? If you ever make them again just dump the sprinkles into a bowl, smear a little honey on their heads and dip (or hand sprinkle) the sprinkles on. They are ADORABLE just as they are tho!!
Minion cupcakes