MINI INDIVIDUAL SIZE FRUIT PIZZA BITES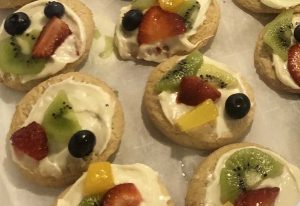 When I make a large Fruit Pizza I definitely make it homemade from scratch  because its delicious and easy but I just want to say for this particular recipe semi-homemade is fine too..  you can definitely use my recipe for the individual cookies but I will tell you that when your doing a ton of these for a party or group you are just better off to go ahead and buy the sugar cookies as they are cheap anyways and you will get a lot of cookies made for your event with little effort.
this is my OLD FASHIONED JUMBO SUGAR COOKIES recipe the same recipe I would use for a large sugar cookie for a fruit pizza and below you will see photos of me making them at Christmas.  So if you do go this route for your mini pizza bites you need to cut out these cookies smaller
2 cups sugar
1 cup shortening
3 eggs
3 tbsp water or milk
3 level tbsp baking powder
1 tsp nutmeg
1/2 tsp cloves
3 cups flour
Cream fat and sugar
beat in whipped eggs and add baking powder and 1 cup of flour.
Then add in water and spices. Add remaining flour gradually  working in more flour until dough is stiff enough to roll.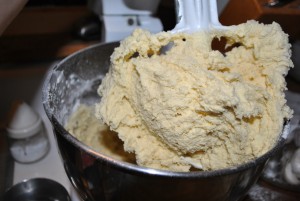 Sprinkle flour over pastry board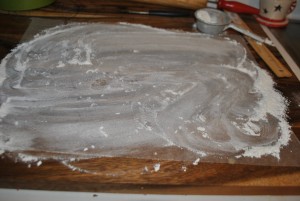 Make a ball of dough and lay it on the board. Rub rolling pin with flour and roll out dough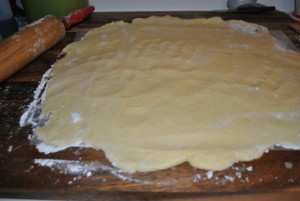 cut into round cakes with biscuit cutter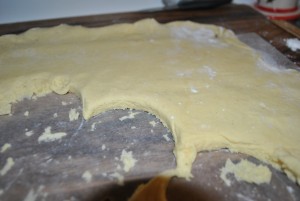 set rounds on greased (I spray) cookie sheet
sift granulated sugar over top (I added colored sugar too)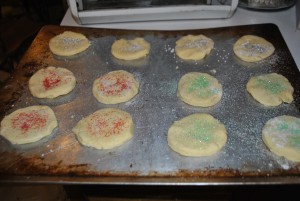 bake quickly at 400 degrees ( I guess I baked till about 10 minutes not sure just watched and took out.. do not over bake)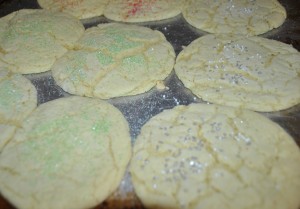 let set a second or two then using thin spatula put on wire rack to cool.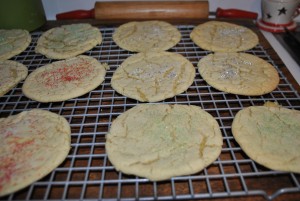 then serve or keep in airtight container.. enjoy.
If you decide to buy the sugar cookies already made, I get them at the Walmart Deli they are soft and work great.
Next decide on the fruit you want to use for your pizza bites
I chose blueberries, strawberries, kiwi, and I had some fruit cocktail in the fridge so I took some peach slices and some pineapple slices out as well for my mini fruit pizzas I had for VBS
peel and slice up your kiwi thin and your strawberries as well very thin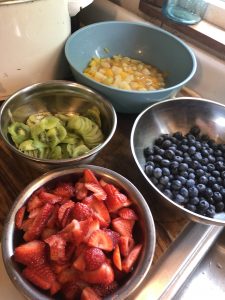 Make Your Cream Cheese Icing
Cream Cheese Icing
2 block cream cheese softened
1 stick butter softened
3 cups powdered sugar
1 tbsp vanilla
Tbsp water
Cream together cream cheese and butter until smooth and add in powdered sugar, mix well add in vanilla and use water to thin a little if needed for easy spreading.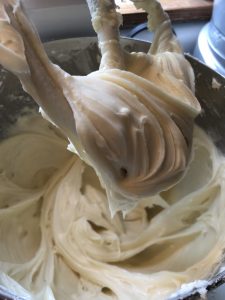 Spread your Cream Cheese Frosting on your cookies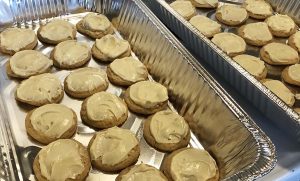 Decorate with your fruit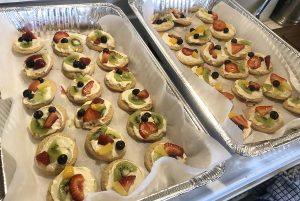 As you can see I did layers, just use a heavy parchment paper or wax paper in between your layer it won't mess up your cookies too bad,, and that way you can get more in there
enjoy,,it is always a real party pleaser
be sure to keep chilled until ready to serve
I recommend putting the cookies together same day as you will be eating them but you can do it the night before.. I just don't like taking a chance on them being soggy.. but your cookie should hold up well.
Snicker doodles also work well with this
March 2023
M
T
W
T
F
S
S
« Feb
1
2
3
4
5
6
7
8
9
10
11
12
13
14
15
16
17
18
19
20
21
22
23
24
25
26
27
28
29
30
31