MINI APPLE PIES (YOU CAN USE ANY KIND OF FRUIT REALLY)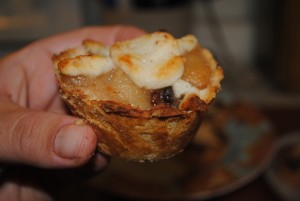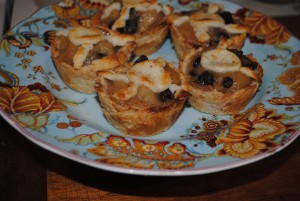 All you need is some Pie Dough, a Muffin Tin, and some homemade pie filling.. I have some here that I froze last summer..
you don't have to spray the muffin tin but I did to get them to come out easier. I used Bakers Joy.
Then I pressed my pie dough in the wells ..
once you have done that you need to poke with fork and sprinkle cinnamon sugar mixture over top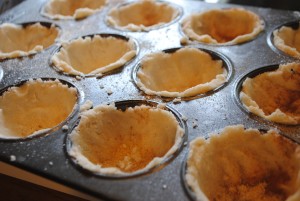 and put into oven at 450 degrees just till you see them start to puff.. ( you want to do this with the crusts so they will be firm enough so you can get them out of the muffin tin  in one piece)
once your crusts are ready you put the filling in (I added raisins in my pie filling and I added 2 tbsp of self rising flour and stirred before adding to the wells)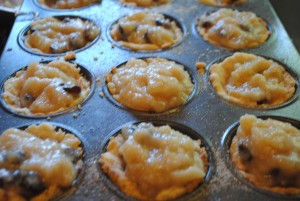 you can use your leftover pie dough to make designs on the top of pie.. something simple is fine as they are so small.
Bake at 450 degrees for a while (sorry didn't time myself you can tell by watching them) then I put it to broil and got the tops browned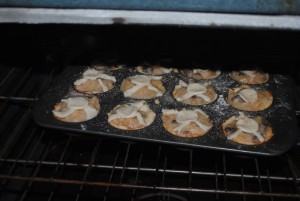 and took them out and let them SIT in the pie tin 5 minutes.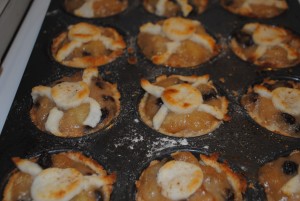 Using a thin cake spatula or knife you go around each pie and loosen then take out carefully and put on display plate or cake stand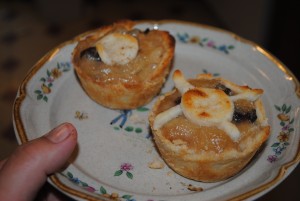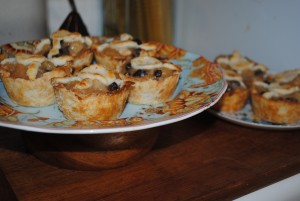 Enjoy!