I needed to use up some apples, so here's another recipe using apples and raisins, from the same Mennonite cookbook I got the Apple Pudding Cake from. http://rosettassweettreats.wordpress.com/2012/01/14/apple-rolls/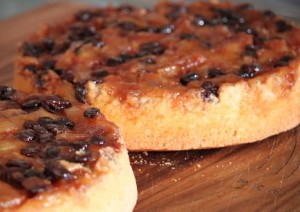 Ingredients:
2 Tablespoons butter
1/2 cup sugar
1 teaspoon cinnamon
1 apple, slice thin
1 Tablespoon yeast
3/4 cup warm water
1/4 cup sugar
1 teaspoon salt
2 and 1/4 cups flour
1/4 cup shortening (Crisco)
Directions:
Melt butter in a 9 x 9 pan; mix 1/2 cup sugar and cinnamon and sprinkle over butter; add apple and raisins.
Mix together yeast, water, 1/4 cup sugar, salt and 1 cup flour.
Beat 2 minutes; add egg, shortening and 1 and 1/4 cups flour.
Drop by spoonfuls over apples; cover pan.  Do not smooth batter out. I made this mistake and in the photos it looks more like apple bread.  You want the dough in clumps so after it bakes, it looks more like rolls.
Let rise until double.  Bake at 350 for 30 to 35 minutes.
Immediately remove from pan by turning upside down.
Recipe from a Pennsylvania Dutch cookbook called:
The Basics and More Cookbook"